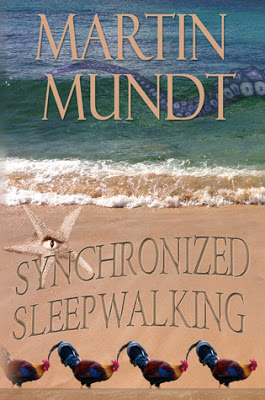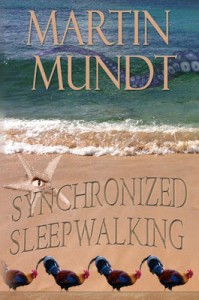 Synchronized Sleepwalking
Martin Mundt
Dark Arts Books
October, 2015
Reviewed by William Grabowski
Readers following the black-light infernality of Martin Mundt's fiction will hyperventilate over this collection of 27 stories — 14 of which are original to the volume. Those coming fresh to Mundt have my deepest envy, for here is a writer unafraid to explore his vision with style and — rarest of all — the patience to cultivate it.
"I have always imagined," stated Jorge Luis Borges, "that Paradise will be a kind of library."
The isolated protagonist of Mundt's "The Pale Blue Zenith of the Sky" might agree, were his mind to wander from its labors during construction of towering stairs, personal library as matériel. "First came the idea, little more than a brief, hesitant vibration that started low and slow in the most shadowed, primitive and obsessive pools of his brain; but which grew, day by day and year by year, ordering one thought like the drone of a cello, then two thoughts like a pair, then three and four, then more and more cellos droning, hypnotic, wave-like and beautiful…" Book after book, under doubting neighbors' observation, rise like concepts sprouting from their infinite text, until beyond human sight. The titles alone are worth the journey. When tower and builder one day vanish, the nosily concerned neighbors are relieved. I haven't anywhere read so strong a parable — at least in America — illustrating public hostility against (and fear of) ideas and intellect.
Matters turn darker far in "Still Life With Walls," an absurdist take on that old saw reminding us that we can choose our friends, but not our family — and what to do about it when casual cruelty and dysfunction blow the door off sanity's fuse box. I'm fairly certain Poe himself would applaud Mundt's alchemical transformation of base violence into quiet epiphany…too late for redemption.
Beyond the stories themselves, what most impresses me is the seeming nonchalance with which Mundt moves from the stark — yet nuanced — parable, to outright brutality; into the meta-weirdness of "The Time I Didn't Meet Christopher Walken," and "The Camera Loves Her," its lacerating truth abandoning us to the lonely void howling behind our fantasies (let's face it, writing at this level of fluid precision isn't easy) .
As if these tales and their poignant finalities weren't enough, the author opens the time-locked door to "The Black House," whose interior spaces churn with galactic currents hungry enough to swallow light and hope. "Allow me to slash through the pleasantries, Mr. Cody," declaims Derwent Voss to his realtor. "Have you ever sold a sorcerer's home before? This is nothing like a podiatrist's house; no, nothing at all. Neither is this comparable to, say, a fireman's house. Can you tell me, for example, if the residual effects of sorcery are considered to be toxic waste? Are they a code violation? What about zoning?"
Mr. Cody is a specialist, representing Fortean Realty (100 points if you get the reference). Here's the thing: in this short story, Martin Mundt proves himself capable of equaling anything described in Mark Z. Danielewski's House of Leaves or Marisha Pessl's Night Film — not that he was trying. If I had to sketch a faint map beneath these stories, it might resemble some idiosyncratic Qabalah linking dread, absurdity, the erotic, and what novelist John Fowles called "nympholepsy": desire for the unattainable, and the haunting sense of loss driving it.
I haven't felt a charge this potent since first encountering the work of Stephen Gregory (The Cormorant and others), and even Michael Blumlein, circa The Brains of Rats. Martin Mundt, though, is clearly brewing his own brand of dark liquor, and—lucky for us—spilling it into our collective myth pool.