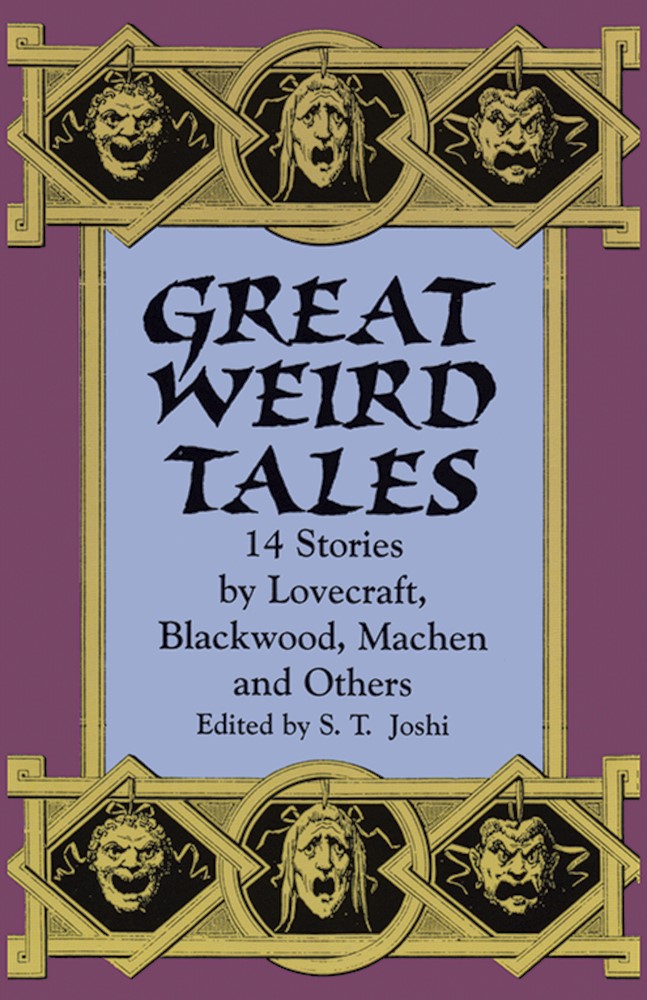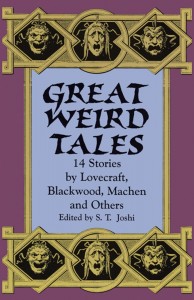 Great Weird Tales
Various Authors
Dover Publications
August 21, 2012
Reviewed by Matthew Scott Baker
If there's a book title with the word 'weird' in it, chances are I'll want to give it a look — the word conjures many mental images for me, and most of them are truly bizarre. Thus, when Great Weird Tales was presented to the JournalStone Network for review, I jumped on the chance to give it a look. I'm happy to report I was not disappointed; Great Weird Tales is a solid collection of vintage strange fiction from notable authors of the genre.
If you are not familiar with the book Great Weird Tales, here is the synopsis courtesy of Dover Publications:
Weird tales — exquisitely chilling works of fiction dealing with supernatural horrors, fantasy, and pseudo-science — became an established genre with the enduring masterpieces of Edgar Allan Poe. The 14 spellbinding stories assembled in this outstanding collection are by later writers, who produced a great outpouring of weird fiction in the "Golden Age" of the genre, between 1880 and 1940.
Included in this treasury are "The Sin Eater," by Fiona McLeod, a wild Celtic fantasy about a grotesque ritual; Algernon Blackwood's "The Man Whom the Trees Loved," in which a man's spirit is ultimately absorbed by the trees surrounding his estate: "The Eye Above the Mantel," by Frank Belknap Long, a sonorous prose-poem demonstrating the effects of verbal witchery; "Facts Concerning the Late Arthur Jermyn and His Family," by H. P. Lovecraft, which ingeniously fuses conventional supernaturalism with science fiction; as well as absorbing works by such masters as Ambrose Bierce, Ralph Adams Cram, William Hope Hodgson, F. Marion Crawford, Lord Dunsany, M. P. Shiel, R. H. Barlow, Arthur Machen, W. C. Morrow, and Fitz-James O'Brien.
Edited by occult fiction expert S. T. Joshi, who has also written an illuminating introduction in the collection, these gripping tales will transport lovers of ghost stories and devotees of supernatural fiction to terrifying realms of the unknown.
I have to confess that I didn't realize this book contained ONLY older stories from yesteryear. This is not a negative at all, however I feel this point must be emphasized as some readers might be misled. If you like turn-of-the-century (and later) short stories, this book will be for you.
Several iconic authors are represented in Great Weird Tales, including H.P. Lovecraft, Ambrose Bierce, and Lord Dunsany. By far, my favorite is Lovecraft; I have been a huge fan of his works for several years, and I always enjoy seeing his name in print. Although the story included here is not one of his darker tales, "Facts Concerning the Late Arthur Jermyn and His Family" is still a potent story and certainly worthy of inclusion here.
Each story in this collection is written well, although some readers might find a few of them rather wordy. Regardless, many of these are classics in their own right, and each one has merit for inclusion here.
Although I had already read a few of the tales in this book, there are several that were new to me. I greatly enjoyed "The Eye Above the Mantel" by Frank Belknap Long, as it is more fantasy than oddity. Also of note are "The Man Whom the Trees Loved" by Algernon Blackwood and "The Sin-Eater" by Fiona Macleod.
Great Weird Tales is a fine collection of antique weirdness, and it will make a welcomed addition to any collector's library. The book is available now.