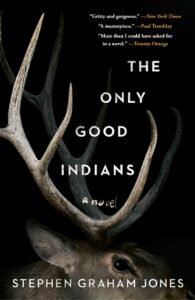 The Only Good Indians
Stephen Graham Jones
Saga Press (July 14, 2020)
Reviewed by Ray Palen
There has been a recent resurgence in the horror subgenre of Native American-based horror stories. This was seen when author Owl Goingback won the 2019 Bram Stoker Award® for his novel COYOTE RAGE. Now another Native American author, Stephen Graham Jones, makes a very strong case for his being considered for that same award in 2020 with his well-received new novel, THE ONLY GOOD INDIANS.
The blurbs on the back cover are a who's-who of modern thriller writers who have raved over this novel. All I can say is that it is definitely unlike any other horror novel I have read—and that's a good thing! Jones himself admits that he did not create this novel in a vacuum, and cites both the novel THE ANTELOPE WIFE by Louise Erdrich as well as an old Masters of Horror episode by John Landis entitled, "Deer Woman," as direct influences on the creation of THE ONLY GOOD INDIANS.
There was one passage in the novel which sort of captures what this tale is all about: 'An elk mother, cornered, will slash with her hooves and tear with her mouth and even offer the hope of her own hamstrings, and if none of that works, she'll rise again years and years later, because it's never over, it's always just beginning again.'
It is that very experience that four Native American young men will face in this novel. Lewis, Ricky, Cassidy and Gabe were in the woods one night as young men enjoying a rite of passage and looking to make a name for themselves with each other, their peers, and the reservation they all grew up on. This entailed hunting down and killing an elk by themselves. Elks are large, proud animals and to take one down and ritually dissect it before displaying parts of it as a trophy was a long-held Native American tradition. Lewis is the one who really steps up once they have targeted an elk for their prey and he and his comrades take the large beast down. What they discover, however, will disturb and haunt them for the rest of their lives. The elk is a female and as they opened her up, they found she was carrying a young fawn.
The young life that would never be and that now had its' mother taken from it really stuck with the four men and would make them question their actions, as well as their own culture which championed deeds like this. Well, like the afore-referenced passage suggests, an elk mother never forgets and will find a way to enact her revenge, even if it takes forever. Years later, with the group of four now all young men, one by one they become the hunted. Ricky is the first to go down, being beaten to death by a drunken mob outside of a local bar. Lewis is the most affected by this, and he begins to see symbolism in everything around him that points to his own destiny, which will entail being killed by the elk mother.
Lewis at first is not sure if his new wife might be the elk woman of Native American lore come to take him. He later changes his mind and decides it is his female co-worker at the local post office who is the supernatural entity out to get him. She stops by his place during a period when he was calling out sick to work to check up on him. He tests her, in his own way, and decides she was the elk woman and opts to be pro-active and kill her before she can take out her revenge on him. Without going into further detail, I can tell you that this does not end well for Lewis.
Cassidy and Gabe are now on high alert, not knowing when, where or how their own destiny will come calling for them. The finale of this novel is a great mix of Native
American ritual as well as a surreal one-on-one basketball challenge for the very souls of those who are in danger—and I can tell you, the elk mother is not satisfied with just taking down the four men. THE ONLY GOOD INDIANS is an eerie, highly satisfying, and important horror novel. It takes standard plotlines like revenge and fuses it with Native American history and a touch of the supernatural in such a way that readers will keep turning the pages to find out how this situation is going to finally end. Here's hoping we see more stories like this one in the future.