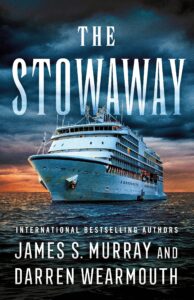 The Stowaway
James S. Murray and Darren Wearmouth
St. Martin's Press (September 21, 2021)
Reviewed by Ray Palen
Authors James S. Murray and Darren Wearmouth, who usually gift us with horrific novels that offer up various giant monsters and/or ancient creatures that terrorize the human race, have taken a completely different approach with their latest effort, THE STOWAWAY.
Any horror in this novel is strictly of a human kind, a vicious serial killer thought to be innocent who now may be on a cruise ship with one of the jury members that initially set him free. Two years prior, Maria Fontana did her civic duty by sitting as a jury member on the trial of alleged serial killer Wyatt Butler. As it turned out, Maria ended up being the deciding vote that exonerated Butler and set him free. As a result of Butler being freed, Maria had to face a wave of negative sentiment from those following the trial in addition to families of the victims, threatening that she better not have been one of the jurors who voted not guilty. She soon realized, however hard she tried, she could not outrun the past and ever put her involvement in this controversial case behind her.
At one point, Maria receives a delivery containing a book from author Jeremy Finch entitled Wyatt Butler: The Ultimate Truth. She is taken aback not only by the book's arrival but also the fact that inside it someone, possibly Finch, wrote the words: You. Were. Wrong. Messages like this continue and become more frequent and equally disturbing for Maria, such as: 'If the judicial system can't stop him. Who will?'
Maria and her family could use a break from all of this unwanted attention, and they decide on taking a cruise. Quite unexpectedly, during the cruise, passengers begin dying. Not dying from natural causes, but dying in horrific ways. Maria learns of the ways in which the first few passengers died, and is horrified to find that they were killed in the same brutal manner as the alleged victims of Wyatt Butler. The problem for Maria is that she is one of a handful of people that has firsthand knowledge of the nature of the original killings. Could it be a copycat, or is Wyatt Butler himself there making some sort of statement?
Either way, Maria is in a position where she cannot convince anyone of her fears, and now has to worry that a potentially bloodthirsty maniac is somehow on a cruise with her and her family and may be out to do them harm. It will eventually get to the point where the captain will have to face the worst and lock down the entire ship until the killer is flushed out. Unfortunately, it may be too little too late for Maria and the remaining passengers, now huddled in fear as a captive audience to a madman. THE STOWAWAY is a nice departure for Murray and Wearmouth but still contains their penchant for horrific kills and white-knuckle suspense.