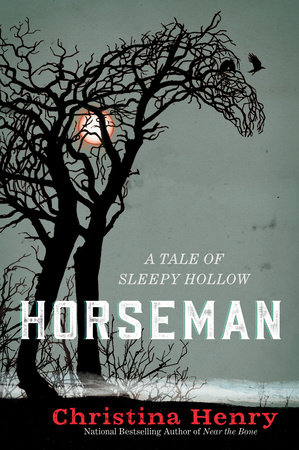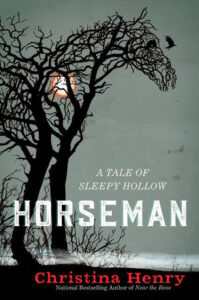 Horseman
Christina Henry
Berkley (September 28, 2021)
Reviewed by Ray Palen
There are few literary works that can lay claim to helping create the modern tradition we know as Halloween like Washington Irving's classic story, THE LEGEND OF SLEEPY HOLLOW. It is this work that author Christina Henry uses as the impetus for her novel HORSEMAN – A TALE OF SLEEPY HOLLOW. This is not the first time she has taken classic literature and retold it with a horrific twist as we have seen her do the same with PETER PAN and ALICE IN WONDERLAND, among others.
Henry kicks things off with a passage from Irving's classic story, which nicely sets the mood and tone for what is to follow. HORSEMAN is set thirty years following the disappearance of the schoolteacher Ichabod Crane. We now see Brom Bones, in some people's opinion the one who drove Crane off, long married to his old flame Katrina Von Tassel. Brom and Katrina are grandparents to our narrator, Ben Van Brunt. We learn from Ben that Brom would always get a glint in his eyes whenever word about the Horseman was spoken aloud, typically followed by a chuckle. What Ben did not expect to happen, since Ben believed most of the tales to be pure legend, was word of Cristoffel van den Berg found in the woods without his head.
Brom now fancies himself a sheep farmer, but when several of his sheep are killed around the same time as Cristoffel's beheading, Ben decides to pry into the matter. What Ben discovers, in addition to the hoofbeats of a horse, is that the legend of the Headless Horseman is real! However, it is when old Mr. Shuler gets Ben's ear that he tells tale of an ancient creature known as the Kludde that has actually been responsible for all the deaths over the years in Sleepy Hollow, inclusive of all those attributed to the Horseman. Now, Ben is on a serious mission to find out what or whom—living, dead, or mythical—that might be behind everything residents of Sleepy Hollow fear.
Ben shares with Katrina and Brom, as well as the parents of a victim, that the killer was witnessed personally in the act of committing the crime. When Ben goes after the creature, all that can be seen of it is a long shadow that shifts and shimmers but has sharp teeth and eyes that glow. One thing that Ben will leave this experience learning is that 'the world doesn't always have reasons. Sometimes terrible things happen without justification, or simply because someone wants them to happen.'
There are some great revelations throughout HORSEMAN, both surrounding Ben and the truth behind the creature responsible for all the killing, that I will not spoil here. This is a terrific read that is faithful to the source material while also taking it to an entirely new level.