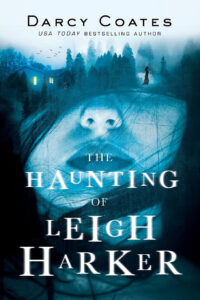 THE HAUNTING OF LEIGH HARKER
Darcy Coates
Poisoned Pen (September 7, 2021)
Reviewed by Ray Palen
Author Darcy Coates has really made a name for herself in the horror field as she consistently attains best-seller status with USA Today national newspapers. I cannot go into a bookstore where the horror section isn't filled with her titles. Thusly, I was very excited to dive into her latest release—THE HAUNTING OF LEIGH HARKER.
Let me just state up front that this is no mere ghost story but something very unlike any other 'haunting' story you might be used to. Leigh Harker feels something lingering outside of her room. It puts her into a state of near total paralysis. She also recalls being chased out of the house. The encounter happened between those strange hours of two and four in the morning, where reality becomes distorted, and dreams are intent on encroaching into the conscious world.
She can get out of the house for work during the day, and then returns home for her evening vigil. Much of what we read of Leigh is on the surreal side, and this makes it confusing for the reader to determine what is real and what might just be in her mind. At one point, following a storm, she notices that here walls are completely bare. She makes a connection with a being who may or may not be haunting her, named Meg, but strange things continue to happen inside her house. It is at this point, about half-way through the story, that Leigh Harker asks the question that is probably on everyone's mind: "Am I dead?"
As Leigh Harker is now faced with the prospect of her own mortality, she makes discovering who she was the primary goal of this existence. She meets another being in her realm named Sarah, who helps her continue to explore both inside and outside of the house for answers as to what is going on. Leigh realizes this journey might be nicer with a friend, and Sarah becomes that for her.
Darcy Coates really explores the concepts of life and after-life for a haunting tale that is far from your typical ghost or haunted house story. THE HAUNTING OF LEIGH HARKER at times poses more questions than it answers, and this keeps readers on their toes so that you do not miss out on any of the clues that might be out there for Leigh to figure out.