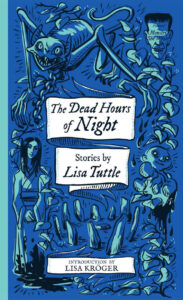 THE DEAD HOURS OF NIGHT
Lisa Tuttle
Valancourt Books (February 2, 2021)
Reviewed by Mario Guslandi
Texas-born Lisa Tuttle (located in Scotland since 1990) is an award-winning author of SF, horror, and fantasy. For her faithful followers, here's the bad news: the present collections includes only reprints, no new stories. For those who are not acquainted with this excellent writer, however, the book is a wonderful opportunity to meet a talented author and to enjoy some of her most acclaimed tales.
Here's my favorite stories.
"Objects in Dreams May Be Closer Than They Appear" is a splendid story where the horrific and the supernatural add the final touch to a perfectly created mainstream piece about failed marriages and unreachable dreams, while "Born Dead" is an astonishing, surrealistic tale revealing the incredible secret in a successful businesswoman's life and the amazing "Closet Dreams" is  a wild ride across time which ends up at the frightening  starting point.
In the dark "My Pathology," a story full of surprises, pregnancies turn out quite different matters, and in the surrealistic, disturbing "Replacements," a man's life and marriage are disrupted by the appearance of unknown creatures quickly becoming ladies' favorite pets.
"Vegetable Love," a superb tale of botanical horror, revolves around the unstoppable spreading of Japanese knotweed in a London neighborhood, while "Mr Elphinstone's Hands," halfway between horror and surrealism, portrays the inconvenient, horrible changes affecting a young woman's hands after attending a séance.
In the riveting "The Book That Finds You," Tuttle admirably describes the efforts of a book lover pursuing the scarce (and somehow dangerous) work of an elusive writer.
Happy reading.