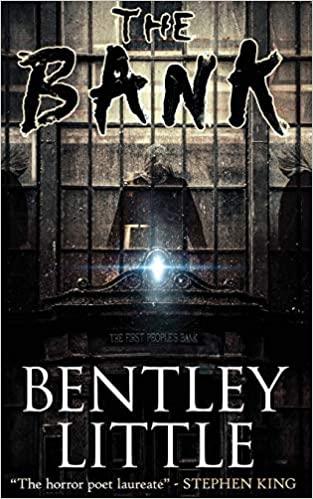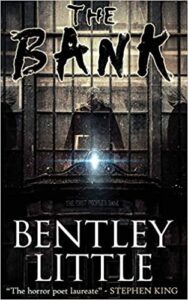 THE BANK
Bentley Little
Cemetery Dance (April 28, 2020)
Reviewed by Ray Palen
Even though he has been producing first-rate horror for the past few decades and has been lauded by the likes of Stephen King, author Bentley Little may be the best kept secret in this genre.
I have been with him since the start of his career, and most of his novels deserve to be mentioned in the same breath as the aforementioned King, as well as other stalwarts of horror like Dean Koontz, Clive Barker, Ramsey Campbell, and Robert McCammon.  His latest effort, directly available from Cemetery Dance Publications, is entitled THE BANK.
The setting for the novel is the small-town of Montgomery, Arizona, and like many pre-pandemic small towns, they are suffering from economic struggles.  Small business owner Kyle Decker, who runs an independent bookstore, begins to see reason for celebration when he learns that a new bank is taking over the abandoned storefront that has been his business neighbor for a while.  The only problem is that no one in the area is familiar with the First People's Bank.
Their initial publicity campaign is unique, as they are sending out targeted marketing correspondence directly to citizens of the town, claiming that they 'know them'.  This makes people more than a little bit uneasy, especially when some of the correspondence gets really personal in a creepy way.  Simultaneous to the arrival of the First People's Bank is a series of strange events all around town.  A student at the local high-school begins seeing an odd shadow following him through the hallways.  Even more alarming is that the bodies of employees from the previous bank, Bank of America, are found by the sheriff's department, deceased and completely clothed in a huge ditch.
When the First People's Bank finally opens, things get really hairy.  One customer refers to the Bank as being like Dr. Who's Tardis in that it was 'bigger on the inside' once you entered their new location.  The issue was, with this new bank being the only financial institution in Montgomery, citizens had no choice but to go there for loans, savings accounts, or any similar requirements.  This bank is unlike any other, most of their new customers find, and the requests made of some of them in exchange for something like a car or small business loan is straight out of their worst nightmare.  When a local citizen who was recently unemployed starts working there, he significantly changes to the point where he is referred to as a 'Stepford teller'.
The only issue I have with THE BANK is that, for readers familiar with Bentley Little's work, the story is a bit formulaic and similar to some of his other novels—a large entity like a home owners association or church, or in this case a bank—opens up in a small town, only to reveal its far more sinister agenda as they begin to take down the good citizens in the surrounding area.  THE BANK devolves into pure horror in the last act that reminds me of some of Peter Straub's earlier work.  A good horror novel, but not Little's best.  If you are new to Bentley Little it is definitely worth trying—but I then recommend you seek out some of his earlier work to find out what you've been missing.