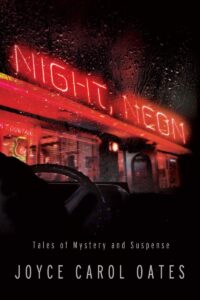 Night, Neon: Tales of Mystery and Suspense
Joyce Carol Oates
Mysterious Press, 2021
Reviewed by Mario Guslandi
I'm not sure if calling the stories featured in the latest Joyce Carol Oates collection "tales of mystery and suspense" is quite correct, but they are certainly very dark and, predictably, mostly excellent. The book includes a novella and seven short stories.
The novella, "Night, Neon," is an enticing narrative tour de force, depicting the life and the disappointing love experiences of a young woman, often the victim of either selfish or abusive men taking advantage of her naivity and of her desire to live a nice existence. The terrible  sequence of unlucky encounters and the physical and moral violence that she has to suffer confer a gloomy atmosphere to the story, which is actually a long flashback after the initial discovery that the girl is now (happily?) pregnant.
"Detour" is the masterful portrait of a woman in distress after a car accident, taking refuge in a house where everything looks odd, yet strangely familiar. In the superb and offbeat "Curious," a writer decides to gratify an insignificant store cashier with secret gifts of money to study her reactions while improving her quality of life. A quite original plot with a tragic ending.
"Wanting" describes how a casual encounter with a shabby artist on a Detroit bridge turns into a nightmare for a lonely and fragile woman. "Intimacy" is a disquieting piece where a young female professor has to deal with a disturbed, angry, and potentially dangerous student, while "Vaping: A User's Manual" is the merciless depiction of a difficult, slightly deranged teenager trying to cope with the drama of a seriously sick mother.
Readers familiar with Oates'  previous body of work won't be surprised to hear that this is a wonderful collection, confirming once again the author's exceptional narrative ability.
Highly recommended.