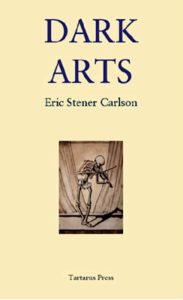 Dark Arts
Eric Stener Carlson
Tartarus Press, 2022
Reviewed by Mario Guslandi
After his splendid debut novel The Saint Perpetuus Club of Buenos Aires I had lost trace of American writer Eric Stener Carlson, whose latest book Dark Arts is a collection of twelve stories (ten of which are previously unpublished) offered in a gorgeous hardcover volume published by British imprint Tartarus Press.
Carlson is an author a bit hard to classify, whose fiction sounds mostly mainstream but always with a hidden vein of darkness not produced by monsters of paranormal events, but born inside the mysterious folds of the human soul.
My favorite stories in the book are fine examples of the writer's attitude and style.
"Golden Book" is an exquisite, lyrical tale probing the secrets of life and death(s) (supposedly, according to that story, we die three times…), while" Divining Rod" is a beautiful, offbeat piece, hard to describe and wonderful to read, an intoxicating mix of little stories and different feelings.
"Strasse 60, Berlin," a weird kind of story, addresses the origin of the words and their hidden power.
To me the most compelling story in the present volume is perhaps "I Loved You at Your Darkest," an enticing tale portraying the life of a young man climbing the steps of society and his friendly relationship with a peculiar girl, whose final destiny is shaped by deception, greed and vice.
By all means, an interesting writer to read and to keep an eye on.