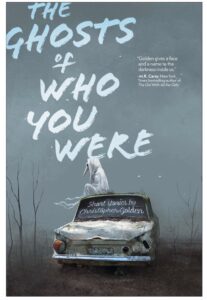 The Ghosts of Who You Were
Christopher Golden
Haverhill House Publishing (October 12, 2021)
Reviewed by Mario Guslandi
In his introduction to the volume, Golden contends that he's not a short story writer, but a novelist.
Truth be told, he's actually the author of many successful novels, such as
The Boys are Back in Town, Snowblind, and Red Hands, just to mention a few examples from his huge bibliography. However, the present collection, which assembles ten tales and a novella, proves beyond doubt that he's also an excellent writer of dark short fiction.
Among the included stories, allow me to mention my own favorites:
"The Abduction Door" is an excellent example of surrealistic horror, revolving around a puzzling, dangerous door appearing inside an elevator, while "The Curious Allure of the Sea" is the vivid portrait of a stressed woman whose father was mysteriously lost at sea.
In the grim "Wendy, Darling," inspired by a popular folk ballad, an unworthy bride is haunted by some ghostly kids right at the wedding site, while in the quite enjoyable "It's a Wonderful Knife," a famous movie producer, known for his predatory attitude towards young and attractive girls, gets his punishment at the hands of a vindictive woman.
"The Bad Hour" is a strong horror story depicting the terrible follow-up to the Iraq war for two veterans back at home.
Even if Golden disagrees, we're looking forward to more short stories from his pen.