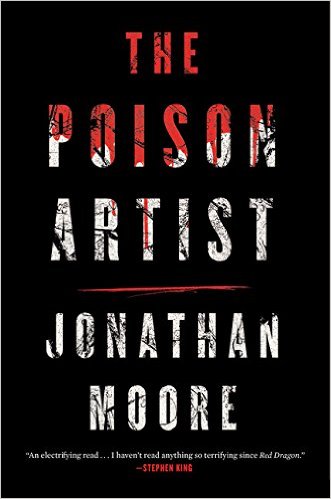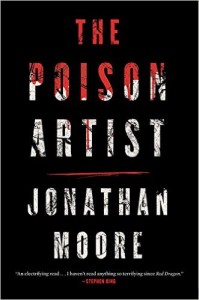 The Poison Artist
Jonathan Moore
Houghton Mifflin Harcourt
January 26, 2016
Reviewed by Marvin P. Vernon
In Jonathan Moore's incredibly intelligent and creepy psychological horror/suspense novel, The Poison Artist, San Francisco toxicologist Caleb Maddox has an emotional breakup with his girlfriend and is nursing his misery over a few drinks in a nondescript bar. He meets a femme-fatale type over a glass of absinthe and becomes infatuated with this woman whose obsession with secrecy is as mysterious and enticing as the timing in which they meet. There happens to be a number of other stressful events going on around Caleb at this point in his life: he's struggling with a funded research project that deals with the effects of pain on the brain and body, and his long-time friend Henry, a forensics examiner, is asking him for advice on a string of suspected drownings that may also involve chemical poisoning which are happening in the Bay Area.
Caleb Maddox is the focus of Moore's novel and it is a blurry focus at best at the beginning. At first we do not know the reason for the tumultuous break-up but we know it must have been of the devastating variety. We slowly discover that Caleb has had a traumatic childhood with his artist father but we do not know the details until much later. What becomes obvious early on is that Caleb is very troubled and very fragile. He makes a lot of stupid moves during the novel but we stick with him because those moves make a certain amount of sense within the range of Caleb's life and pain. The "stupid moves" seem to mean something, which is kind of a neat trick for the author to play. The mysterious woman is also fragile but creepy; she is the type of woman that novels like The Woman in White and movies like Vertigo made famous, and is a stalwart of this type of psychological thriller. Caleb's obsession with this woman either makes for a majestic epic or a creepy and scary masterpiece of the nightmare kind and I suspect you already know where this one is headed.
Just as important is the string of murders that Caleb's friend is working on. They appear to be drownings but tests show a particular sameness in their injuries and involves a particular substance in their bodies. Caleb's expertise as a toxicologist brings him into this investigation but on the sly since he is also one of the last people to see the most recent victim alive. Caleb's role as secret advisor and possible suspect causes a strange precarious balancing act for him and weaves him deeper into the proverbial spider web.
All these twists, overlapping sub-plots and behavioral motives make for a complex yet hypnotizing read. It is one in which we may be a bit unsure of the main protagonist but can't resist seeing how far he will drag himself in. And of course mysterious femme fatales are always a plus. The delight in the novel is that Moore plays it out so well. He weaves all the spider silk together and never falls off the beam. The trick is to give us just enough to keep us going, a little more to say, "I think I know," but not enough to really know and perhaps even be shocked when we do know. There are enough turns and red herrings to keep the most jaded mystery buff wondering. Yet in something like this, it is not the whodunnit that excites me as much as the dark and complex minds of our protagonist and the woman that obsesses him to do actions that most of us would shake our heads at. This is the hallmark of the psychologist thriller; the entrapment into the darkness caused by the faulty workings of a mind that goes beyond reasoning. The Poison Artist fits neatly with that handful of exceptional psychological suspense novels that capture that dark and unenviable passion that lead to terror and horror. It's an eerie but well-structured excursion into that dark territory, and is recommended to anyone who loves a good literary suspense novel.