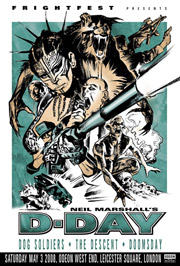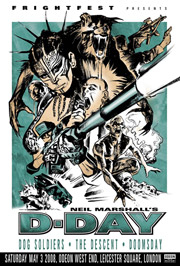 Saturday May the 3rd was a good day to be a horror fan for anyone living in reasonable travelling distance of London. The only problem was deciding which cool genre-related event to opt for. Over at the Institute of Contemporary Arts, genre legend Roger Corman was making a rare on-stage UK appearance in conversation with Kim Newman as part of a special retrospective of his work. In Piccadilly Circus, the annual "Sci-fi London" event showcased "Dead Space", a four film-strong all-night marathon that incorporated Alien (still scary after all these years), John Carpenter's The Thing (the effects are still stunning and shocking 26 years on), Pitch Black (the effects are ropey just a few years on) and Solaris (two hours of welcome sleep). And in Leicester Square, the guys behind Augusts' hugely popular Frightfest organized Neil Marshall's "D-Day", a celebration of the short but remarkable career of a growing genre legend.
Marshall has only made three feature movies to date, but it's quality rather than quality that has swiftly earned him a substantial fan base. The West End event showcased all three Marshall movies in marvelous film prints with the Odeon's exceptional sound system giving them all extra impact. It was a welcome opportunity to revisit Marshall's dynamic debut, DOG SOLDIERS and his unforgettable second feature THE DESCENT en-route to the European premier of DOOMSDAY, his break into big(ger) budget American-funded cinema. For the audience, it was a chance to join or rejoin the ever-increasing, loyal Frightfest fan base, a close-knit gang of die-hard fans who over several years of weekend events have bonded in person and on the Frightfest forums. And it was also a day of many special guests, with almost everyone who played a significant role in either DOG SOLDIERS and DOOMSDAY present, in addition to Neil's genre-savvy wife Axelle, who was credited for conceiving the day itself.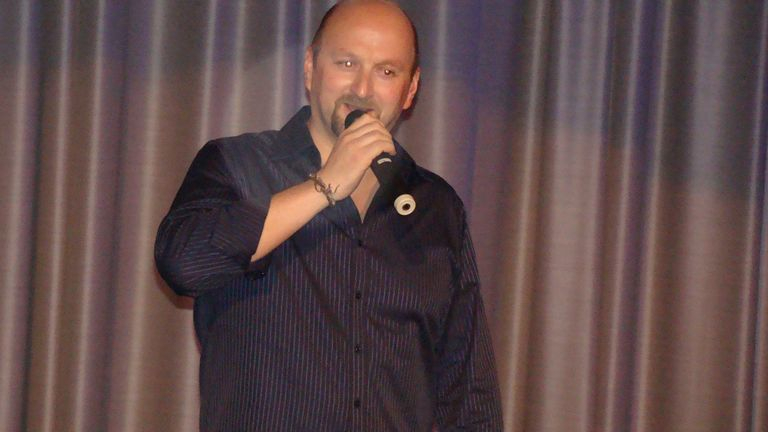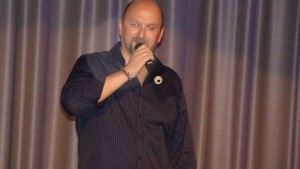 (Neil Marshall)
As London basked in the first warm weather of 2008, an enthusiastic crowd of around 300 gathered inside the nicely air-conditioned Odeon for the late-morning Neil Marshall intro of DOG SOLDIERS, a low-budget calling card for the writer-director and one of the few werewolf movies of the past decade that doesn't make you want to gouge out your own eyes with sporks. (Ever seen BLOOD AND CHOCOLATE or SKINWALKERS? If you have, just be grateful that Nurse Ratchett still lets you use the computers. If you haven't, go and do something less painful instead, like nailing your own scrotum to a cheeseboard).
Marshall is an engagingly laidback and humble presence in person : a regular attendee at the main Frightfest events even when he hasn't got a movie showing, he is approachable and likeably modest about his own achievements. It's obvious that he takes pride and a great deal of pleasure from the genre in which he works.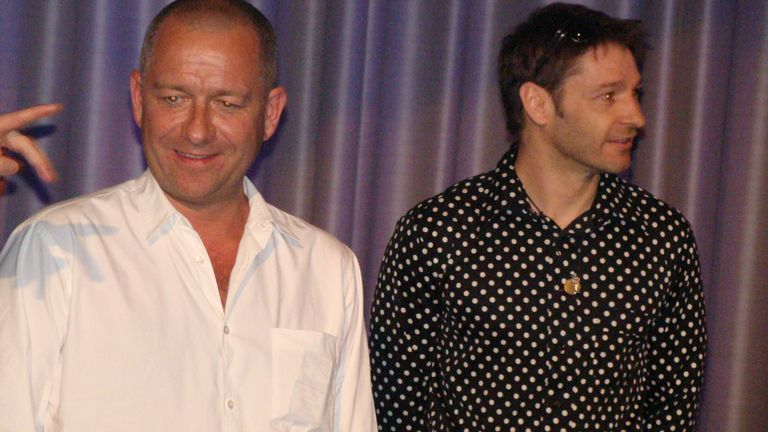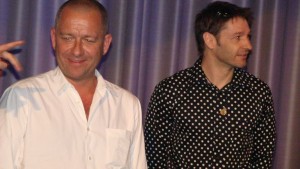 (Sean Pertwee, Darren Morfit)
DOG SOLDIERS found its biggest audience both in the UK and the US on video but this theatrical screening of the 2001 movie reinforced what a great audience movie it is. Any flick in which a key character is disemboweled early on but lives on for nearly the entire picture thanks to a combination of superglue and good old fashioned stubbornness is always going to provoke a strong reaction from a crowd of gore-lovers. Cannily delaying the full-on werewolf action until the final stretches (the first hour is all fleeting glimpses of blood and claws and shadows), the movie transcends its unspectacular budget with inventive shocks and witty character banter. It's also eminently quotable and UK football fans get an added kick out of all the sports references, including the memorable kiss-off line "They think it's all over…"
Throughout the day, key figures in the making of the three movies joined Frightfesters and re-watched their own work with the audience. On stage, Marshall generously took a back-seat and allowed his actors to field questions from the fans. Sean Pertwee, who dies spectacularly in both DOG SOLDIERS and DOOMSDAY, effortlessly stole the show with his patented cheeky Cockney presence, amusingly answering questions about entrails and Karaoke performances of the theme from FIREBALL X L 5 (must have been a private joke). Co-stars Kevin McKidd, Chris Robson and Darren Morfit were also engaging as they reflected on the Luxembourg-shoot of the movie, which Marshall accurately referred to as a "boys with toys" film.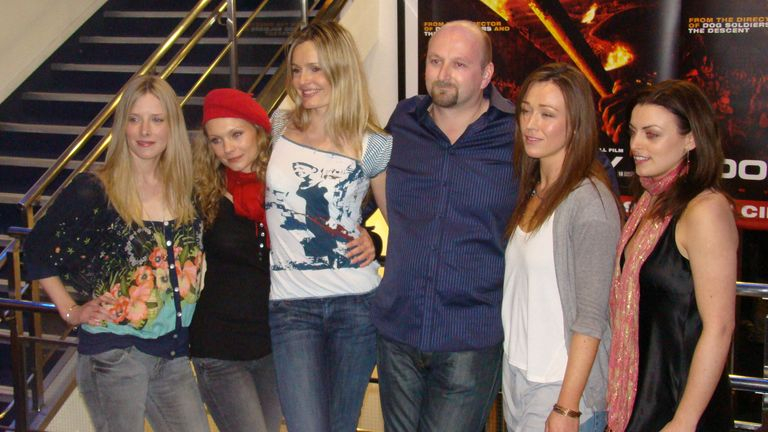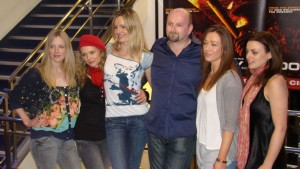 (Neil Marshall with the female cast of THE DESCENT : left to right, Shauna MacDonald, MyAnna Buring, Saskia Mulder, Alex Reid and Nora-Jane Noone)
If DOG SOLDIERS was "boys with toys" (and werewolves), THE DESCENT (2005) pulled a gender switch and was described by its writer-director as "chicks with picks". Marshall's sophomore effort had the misfortune to be released on the 7th of July 2005 in the UK – precisely one day after the multiple fatalities of the Al Qaeda London underground bombings claimed dozens of lives. It was an unfortunate time to release a movie about the horror of being trapped and terrified in a hostile underground terrain, but the film was so potent and so brilliantly made that it swiftly garnered great reviews (even from traditionally horror-hating critics) and a sizeable following on video.
Three years on, THE DESCENT is as terrifying as ever. It is arguably one of the very best horror films of the past decade and, without wishing to revel in hyperbole, among the most frightening genre flicks period. This piano wire-taut cave-set exercise in claustrophobia, like DOG SOLDIERS, spends welcome time developing its small ensemble group of characters, briskly establishing personality traits and fraught relationships in the first half before subjecting the cast to a gory, intense onslaught in the second. Some of the most memorable scares in recent memory are in THE DESCENT (a moment involving a monster in a camera view finder startles even on a third or fourth viewing), and, in contrast to the playful gore of DOG SOLDIERS, when the blood hits the fan in this movie, the effect is genuinely shocking.
Taking to the stage after this unforgettable movie were most of the film's multi-national female cast : namely heroine Shauna MacDonald, MyAnna Buring, Nora-Jane Noone, Saskia Mulder and Alex Reid. Horny-minded male horror fans like this writer were positively drooling at the prospect of meeting this fine-looking bunch of talented femmes, though it was uber-sexy Reid that seemed to get the most pulses racing. Quick, nurse, the screens!
THE DESCENT ladies were engaging in their discussion of the movie's production : shot chronologically in polystyrene cave-simulation sets, the flick was not nearly as intense a shoot as it is to watch…though it was good to hear the laments of an actor who played one of the terrifying "Crawlers". THE DESCENT is such a great movie experience that it was uniquely disheartening to hear from the on-stage Q and A that most of the main actresses – including MacDonald as the heroine – are returning for the in-production THE DESCENT 2. If ever a horror movie should be left sequel-less to stand-alone, it's THE DESCENT. The prominence of MacDonald's character in this follow-up doesn't even make sense for those that have seen the movie's proper, UK version : the Lion's Gate-doctored American version ruined the film's hauntingly bleak end by suggesting MacDonald actually got out of the caves…whereas the UK edition cruelly pulls back to reveal her stuck there, apparently waiting to die.
On then, to the day's main event : the UK premier of Marshall's break into big-budget filmmaking, a hyper-kinetic feature length love-letter to 80's post-apocalyptic action flicks that, while not universally loved, had the kind of audience response a life-time fan boy like Marshall must have been quietly relishing elsewhere in the auditorium. The movie's exhilarating use of music, splatter and Rhona Mitra's awesome arise all got the appropriate level of viewer love, and only the most stony faced would have left the Odeon feeling short-changed.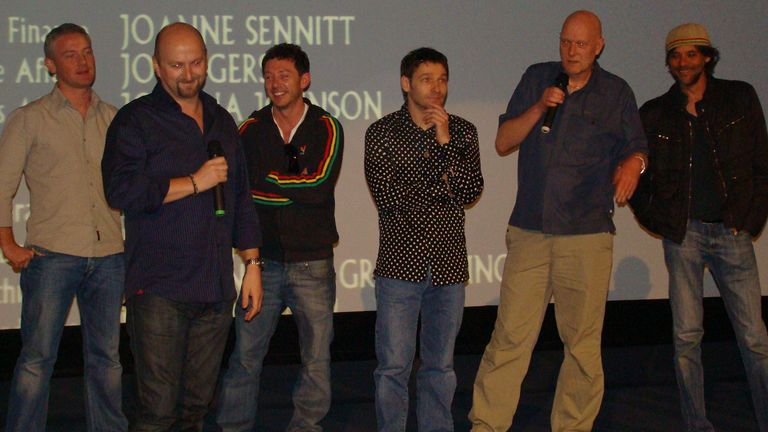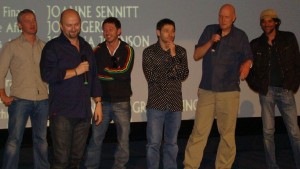 (Neil Marshall with DOOMSDAY cast members)
Before the day ended with an epic signing session in the bar featuring all the aforementioned stars, festival organiser and Fangoria scribe Alan Jones opened up the final Q & A by rhetorically asking "What's wrong with America?", a reference to DOOMSDAY's undeservedly (though not unexpectedly) lukewarm U.S. box office. Taking to the stage were the already-seen stars of DOG SOLDIERS and THE DESCENT who returned for plum roles in DOOMSDAY : namely, Darren Morfit, Sean Pertwee, MyAnna Buring, Nora Jane Noone and Chris Robson. They were joined by the charismatic Alexander Siddig and Leslie Simpson, while make up effects whiz Paul Hyett, who worked on Marshall's second and third movies, hung around and expressed an appealing childlike glee at his own work when this writer presented him a Fangoria issue with a DOOMSDAY cover to sign.
Marshall and co. were enthusiastic in their reminisces of DOOMSDAY's South Africa shoot, including the destruction of at least one Bentley. Overall the impression gained from the on-stage rapport throughout the day was that Neil Marshall is a cool and friendly dude to make movies with – and, to seal the deal, he makes cool and lively movies to boot. Entirely lacking was the kind of "you guys are so great" artifice that sometimes arises at occasions like this – instead there was the sense of a bunch of talented people justifiably proud of their work and enjoying the chance to celebrate it with a bunch of true fans. Marshall clearly sees himself as much of a fan as a filmmaker : fittingly enough, the last question pitched to him during the day's on-stage sessions was "How much are you looking forward to the next Indiana Jones film?" The answer was a brief, simple yet entirely apt one : "A lot". See you in the queue, Mr Marshall.