Jack R.: You have an incredible story of how you entered the world of horror. Do you want to elaborate on your beginnings while writing letters to the then head of New Line Cinema at the age of 14?
Jeffrey R.: Well, I was always a huge horror fan. I started watching horror movies and reading Fangoria when I was 12 or 13. My buddies and I loved horror films. Especially because everyone else was freaked out by the blood and gore. We were like, "the bloodier, the better." But when I was 14, the most important horror movie experience of my life happened. I saw the original Nightmare on Elm Street. I just fell in love with the movie. I didn't know anything about writing scripts or how the movie industry worked, but I went home and over the next few weeks I typed a treatment for a prequel to the movie. I found out that Robert Shaye was the head of New Line Cinema, so I sent him the treatment. Weeks later, I got a standard rejection letter stating that New Line didn't accept unsolicited material. So I was a little annoyed and we all know that kids don't take no for an answer… so I sent it back with a surly letter, telling Mr. Shaye that I'd spent hours of my time and money watching his films, so the least he could do was read my treatment. He must have been having a slow day, because he read the treatment and got back to me. He told me I needed to learn the craft of screenwriting, but complimented my imagination. This started a phone, and letter, correspondence with Bob and his assistant, Joy Mann, that lasted through my sophomore year in college. That's when I went to New York for an acting summer program and got an internship at New Line Cinema.
Jack R.: There were a lot of horror pics at the time of Nightmare on Elm Street. What was it about Wes Craven's razor gloved icon that lured you to the horror genre?
Jeffrey R.: Well it was incredibly original and kept me terrified from the opening scene. It had smart characters, a strong female protagonist and every kill/scare scene was a mini classic. I still love the movie…
Jack R.: Were there some deep-seeded issues from your childhood lingering in the back of your mind which drove you into the world of horror?
Jeffrey R.: Nothing that got me started in horror per se. I've always had a very active imagination and there was something so visceral about horror. But I definitely grew up feeling like an outsider, which is something a lot of people who gravitate towards horror have felt. My mom, sister and I moved to Eastern Kentucky when I was very young. The area I grew up in was far from diverse. In fact, there were only 4 non-white people in my entire school system…from grade school through high school. So I definitely felt the sting of overt racism. And not the subtle kind – the kind you'd expect to hear about in the Deep South in the 50s. So watching horror films was very cathartic for me. The people who know me, always comment on how nice and good natured I am. I guess, based on my writing, people expect me to be a little more "ax – murderey."
Jack R.: What is the film-going experience like in Kentucky? I remember the first time I witnessed Halloween at the tender age of 8…it left me shaking for many nights. Were you allowed to watch horror films as a kid?
Jeffrey R.: God bless my mom. She let me watch horror movies all the time. She always thought they were sick, but was glad that my friends and I had a hobby that didn't involve drinking and partying. We only had one drive-in theatre in town and one of my friends lived right behind it. So, we'd climb on to his dad's semi-truck and turn on the CB and watch movies all the time. But after seeing a good horror movie, I'd lay awake at night, scared out of my mind. But since I read Fangoria, I knew the blood and gore were all fake.
Jack R.: After high school you went to college and studied? Was film in the back of your mind?
Jeffrey R.: Yes, I always knew I was going to work in the movie industry some day. I first dreamed of being an actor, so I majored in theatre. I was so sure (or naïve) of my goals that I didn't study anything else. However, Hollywood isn't known for thinking outside of the box and I was starting off at a time when they didn't know what to do with multi-racial actors. My agent said I was like an "ethnic Michael J Fox" type and didn't know what to do with me. So after years of frustration, I decided to give writing a try.
Jack R.: (All the while you maintained contact with Bob Shaye)…how did you get your foot into the door of Hollywood?
Jeffrey R.: That letter was my first step. When I was a sophomore in college, I started my internship at New Line, which led to a job there. I actually ended up working there for 11 years. They're the ones who produced my first film. My story is definitely far from normal. But working at the studio was an invaluable experience. Growing up, I thought if you wrote a movie and it was good, someone just gave you the money and you shot it. I had no idea how hard it was to put a film together. New Line alone used to receive dozens of scripts a day. Of those, only a select few (3-5) made it to the production team to read every weekend. And even though studios have anywhere from 70-150 projects movies "in development" every year, only 7-15 of those get made. So it's a long, hard road.
Jack R.: After a lot of doors and pounding the pavement, how did Final Destination manifest?
Jeffrey R.: I wrote a spec script for "The X-files" to get an agent. The script was a good sample, but it never actually got to the guys at the show. However, my friend and colleauge, Mark Kaufman, loved the concept and pushed me to think of it as a feature. A short time later, another friend of mine, Chris Bender, started working for uber-producers Warren Zide and Craig Perry. He asked me to send over a bunch of my horror ideas and Warren and Craig sparked to "Final Destination" (formerly Flight 180.) They had a first-look deal at New Line Cinema, so for months we fashioned the story and kept resubmitting it. Even with the producers, New Line was nervous about doing a story where Death was the killer. Especially since we didn't manifest Death as some monster you could kill or fight. But eventually they bought the treatment and hired me to write the script. Then we went out to several directors and ended up landing James Wong and Glen Morgan (who were known for doing some of the best episodes of The X-files.) They ended up co-writing the shooting script and James directed it.
Jack R.: The sequel almost outperformed the original…why didn't you step in for part three?
Jeffrey R.: The studio went back to James Wong and Glen Morgan for the sequel. Actually the 3rd film was the highest grossing one of the series, so I wouldn't be surprised if Death comes back for more.
Jack R.: Tamara is an outstanding film that's reminiscent of 80's films…how did this project come about?
Jeffrey R.: My intent in with Tamara was to write a fun, sexy and scary throwback to the 80's horror films that I know and love. People kept asking me to come up with another high-concept film like Final Destination and when you're under that kind of pressure, it can be daunting. With Tamara I wanted to have fun and write something that was good, trashy horror. The script was a lot more intense, violent and sexy than the finished film, but I still think it's a fun movie.
Jack R.: Let's talk about Day of the Dead…Universal scored a hit with the remake of Dawn of the Dead in 2004 but Romero's vision of Land of the Dead did not live up to expectations and didn't perform well at the box office. How did Day of the Dead land in your lap?
Jeffrey R.: The producers had the rights and approached me about possibly writing the sequel. I was initially hesitant because I knew the fan backlash would be fierce. They'd already hired Steve Miner and I'm a huge fan of his, so I knew the movie would be in good hands. I brought Steve, and the producers, several ideas for the remake. They liked my ideas and my previous work, so they offered me the job. In the end, the chance to work with Steve Miner, on a George Romero film was an opportunity I couldn't pass up.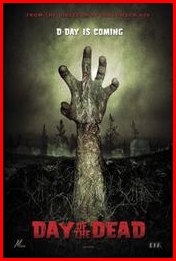 Jack R.: What can audiences expect from your fresh perspective on this cult classic?
Jeffrey R.: Audiences can expect an intense, thrilling horror film. From the beginning, Steve was passionate about making a movie that terrified people, but also had a strong story and good characters. We didn't want to try and just redo Romero's film with a bigger budget. That would be foolish. We wanted to take his universal themes and incorporate them in to a story that takes place in our times. We strived to create a zombie movie that would entertain modern movie audiences and please the fans of old.
Jack R.: Ving Rhames is back for seconds in the horror trilogy…but as a different character. His performance in 2004's Dawn of the Dead was great and the film left us wanting more. Do you think that audiences will accept or reject this move?
Jeffrey R.: I can see how this casting might be confusing to some people, but it's Ving Rhames we're talking about. When I heard he signed on for Captain Rhodes, I was thrilled. Audiences are a lot more intelligent than people give them credit for being. And I think/hope that if the movie's good, they'll go along for the ride.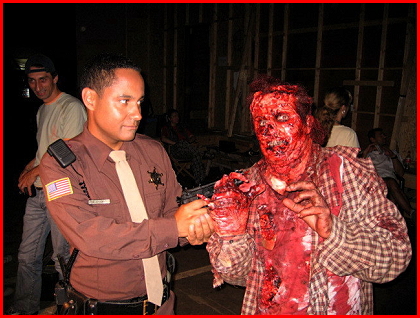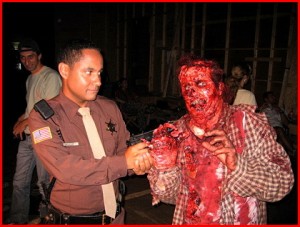 Jack R.: The rest of the cast is quite eclectic…we have Mena Suvari, Nick Cannon, and Christa Campbell. How are they in the new film?
Jeffrey R.: I had the pleasure of hanging out with most of the cast, because I went to Bulgaria for a week. Unfortunately, Ving and Christa weren't there, but I did hang out with Mena and Nick. They're the cast members who are stirring up the most debate, because people keep typecasting them based on their past roles. But they both kick ass in the movie. Mena's strong and beautiful. Her character's been thrust in to this living nightmare, which is more terrifying because it's affecting her hometown. This Sarah isn't just some straight up Linda Hamilton type – running around and kicking zombie booty. She's got a lot of emotional stuff going on too. Nick is also amazing. He's a really funny, down to earth guy and he's perfect as Salazar. The character was written as kind of a wise-ass. Like a lot of people do in real life, he deals with the film's terror with sarcastic humor.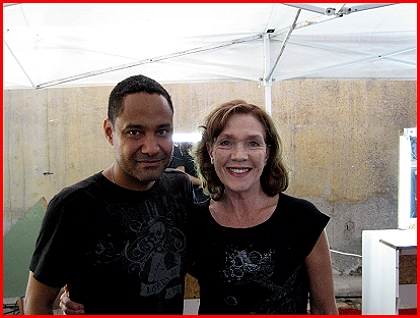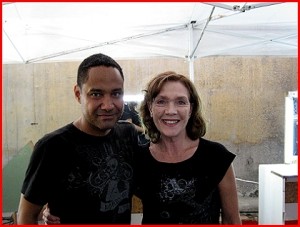 Jack R.: Steve Miner is a legend in the horror genre. Friday the 13th part 2, Lake Placid, reviving Halloween h20 in 1998…what was it like working with him?
Jeffrey R.: The movies you listed are some of my favorites…but you left out Warlock. Since Steve was an idol of mine, I was nervous the first few times we met to go over the story. But he was really extremely approachable…not an ounce of ego. He's also got a great sense of humor. He's been in the business a long time and it was cool to work with someone with such a wealth of experience.
Jack R.: You're right about Warlock. I almost forgot about that gem of a horror film. With Halloween fast approaching, what are you most anticipating this creepy season? Can you give us your top 5 horror films for a good fright night?
Jeffrey R.: I'm working on a few new horror projects right now, so I'm anticipating working my butt off. But I have been told by my friends that we're dressing up as The Facts of Life Girls….now that's scary.
My top 5 list would have to be…A Nightmare on Elm Street, Suspuria, Texas Chainsaw Massacre (the original), Friday the 13th Part 2 and Halloween.
Jack R: Thank you for taking the time for this Jeff. We'll have to meet for lunch again this month so I can pick your brain on the waterfall of horror films this season.
Unfortunately, before Jeffrey could respond, he met his final destination. Stay tuned for part two of this three part interview coming soon.
-Jack Reher