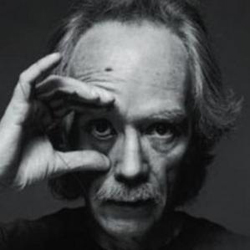 Carpenter's Corner
By David Wing
Welcome to Carpenter's Corner, a monthly segment where we look at the works of the maestro of mayhem, John Carpenter, in all his cinematic and musical glory. We may even at times mention his moustache.
A little background: John Carpenter was born in New York State but moved at a young age to Kentucky where he began to cultivate a love of low budget horror/sci-fi films and the Western films of the late, great Howard Hawks (Rio Bravo, 1959). In 1970, while still in film school, Carpenter co-wrote, edited and scored The Resurrection of Broncho Billy, which went on to win the Best Live Action Short Film Academy Award. This was just the beginning of Carpenter's long and influential career.
Having more or less retired (despite a brief foray back to directing in 2010 with The Ward) Carpenter has focused more on music and on February 3rd, 2015, we saw the release of his album John Carpenter's Lost Themes, a work of haunting brilliance that's housed within the realm of Carpenter's worlds. His style is a blend of Halloween's terrifying 'Ca ca ca ca ca' and in the excellent track Fallen, we get strong hints of Daft Punk's Tron soundtrack. To listen to Carpenter's music, one feels a nostalgic lean between classic 80's horror (of his own devising) and modern/cult sci-fi, all rolled into one, much-too-short album. Highly recommended.
Over the course of this segment we will delve deeply into Carpenter's back catalogue and enjoy some truly wonderful and equally odd and occasionally not-so-good work, but all the while, we will delight in the joy that is a John Carpenter film. We will also address his influences, the influence he has had on movie-makers, the movie-going public alike and his colleagues that helped to make John Carpenter the master he is.
First off: Assault on Precinct 13.
This was Carpenter's second film and yes, I know we usually start at the beginning, but I always liked this one and it's my segment, so there.
Filmed in 1976, Carpenter was hot off his debut film Dark Star (1974) and having helped to craft some of those effects we all know and love from Star Wars, he was a growing force. With a budget of just $100,000 (an increase of $40,000 from Dark Star), Carpenter sought to tell the story of a police station in its final day as a functioning precinct, that finds its new commanding officer – Lieutenant Bishop and the skeleton staff  – under siege from street hoodlums. Their only hope for survival is the co-operation from a notorious criminal/prisoner.
On the surface, this is a thriller with lots (and I mean lots) of gun-play, but underneath Carpenter has crafted a story that follows a series of disturbing events throughout the course of an L.A. day that culminates in an all-out war and woe betide those poor souls in that precinct.
A raid by the L.A. Police Department on a gang (who recently stole a lot of guns) leaves several of the members dead and as a result a blood oath is made. In retaliation, members of the gang shoot an ice-cream man and a little girl. The father sees the gang pulling away and chases after them, killing the gang leader and runs into Precinct 13 for protection from their pursuit. The father is unable, due to shock, to tell Lieutenant Bishop what has happened. While this is happening, a prisoner transport pulls into the station, carrying a sick man and Napoleon Wilson, a prisoner on his way to death row.
The gang cuts the telephone lines and electricity cables and using silencers, opens fire on the precinct, killing most of the people inside. As the neighbourhood is mostly abandoned (gentrification or simply abandoned), there is no one to hear the assault.
For a script written in all of eight days, you might be forgiven for thinking it could have been better. Sure, it could, but when you watch a cult/budget/indie film, you're not looking for high-brow, multi-draft scripts; you're looking for bravery and originality. That's what we have here. Yes, it's a re-imagined Rio Bravo. Star Wars was a spaghetti western in space and you liked that, didn't you?
With many films, you can see the flaws, you can see where the studio has failed to advertise or the budget has been too low or the actors didn't try, but a film is never truly a failure unless the film maker didn't try. Carpenter took a meagre budget, shot a child dead in one of the first scenes and from there, never looked back.
"Assault on Precinct 13 is one of the most powerful and exciting crime thrillers from a new director in a long time," Ken Wlaschin, London Film Festival, 1977.
For more Carpentered delights, please pop back next month when we will be looking at The Thing, or Big Trouble in Little China, or Escape from New York, or….I can't decide, you'll have to click and find out.
P.S. If you look closely enough, you can see Carpenter dressed as a gang member.