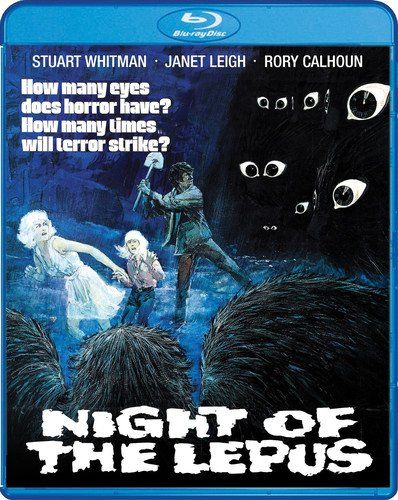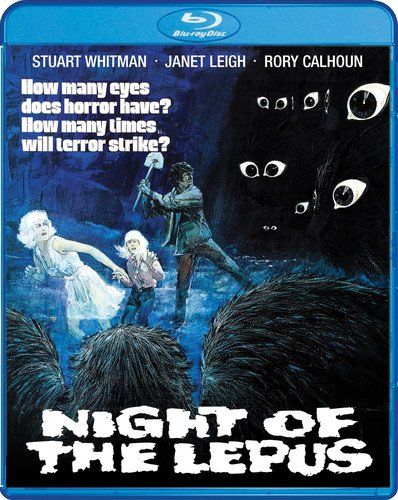 Night of the Lepus
1972
Director: William F. Claxton
Stars: Stuart Whitman, Janet Leigh, Rory Calhoun, DeForest Kelley
Reviewed by Brian M. Sammons
Yes, Night of the Lepus is the infamous 1972 cult classic about bunnies getting big and going off on a murder spree in a small western town. If you've seen it and you're a fan of WTF? movies, then you know how good it is. If you have never seen it then boy, are you in for a treat. Seriously, this flick takes the idea of giant rabbits and tries its best to make them legitimately scary. Everything is played straight and that's what makes this movie so much fun. The fact that real, respected actors were asked to play frightened by bunnies, like DeForest Kelley (Bones from Star Trek), Rory Calhoun (veteran of over a 100 movies, but horror fans will know him as Farmer Vincent from Motel Hell), and Janet Leigh (Psycho). How did the filmmakers pull that off? Well grab your gun and a big bag of carrots and let's get hopping to it.
Science! is doing what science does and experimenting on rabbits to make the bigger for better food production or some such. The bunny-loving daughter of one of the scientists wants to save her favorite furry friend and switches out a genetically altered rabbit with a normal one, then once she get home she promptly loses it outside. That rabbit acts like a rabbit and breeds like crazy and soon there are a whole bunch of car-sized rabbits with a taste for anything and anyone.
A group of modern-day cowboys, veterinarians, housewives, and some of the scientists responsible for the whole mess, team up to stop the killer hippity-hops. What follows is pretty basic "when animals attack" stuff, despite the unlikely threat. The acting is good, insomuch that no one breaks out laughing at this plot. I don't think I could have done that. There are a few bloody scenes of light gore but the star of the show is the film trying so hard to make the rabbits look both big and frightening. It just makes me laugh every time I see it and God bless everyone involved for giving things their all.
Let's get to those extras that Scream Factory has given us with this new release. There is a commentary track with film historian Lee Gambin and another one with pop culture historian Russell Dyball and both of them were a lot of fun. Not too bad for a silly movie about giant killer bunnies. There is also the highly misleading trailer (would you want to admit that your movie was about murdering rabbits?), a TV spot, a radio spot, and an image gallery. Sadly there is no making-of or retrospective, but for a movie this infamously hokey, I was surprise to have the two commentaries, so that made me happy.
Night of the Lepus is a fun flick that takes a ridiculous premise and tries to play it earnest, thus making the end result unintentionally hilarious and a joy for nature run amok film fans. It's one of a kind and not to be missed by lovers of the weird and wonderful. I love it and as such I can highly recommend it. Make sure you nab a copy when it comes out June 19th.