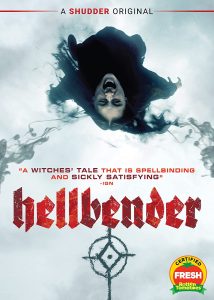 Hellbender
Directors: John Adams, Zelda Adams, Toby Poser
Stars: Zelda Adams, Toby Poser, Lulu Adams
Reviewed by Brian M. Sammons
More folk horror and that means more witches, bitches. This is also another RLJE Entertainment release of a movie currently streaming on Shudder, and getting physical copies of digital-only movies always makes me happy. Even if it only comes out on DVD. Something real and tangible is better than nothing. But yes, this is another witchcraft story, which is a subgenre of horror that is getting awfully crowded lately. What does this one do to stand out from the coven? Well, grab your broom and your favorite black cat and, to paraphrase Charlie Manson, let's watch something witchy.
This is a very low-budget and tightly focused film, but it doesn't look it, nor do the actors act like it, thank goodness. It is also a family affair, written by John Adams, Zelda Adams, and Toby Poser, directed by the same three people, and staring Zelda Adams, Toby Poser, John Adams, and a new Adams, Lulu. John Adams also did the music, and Zelda and John also came up with some original songs together for the movie. I absolutely love that the whole incredibly talented family combined their efforts time and time again on this movie.
As for the story, a young girl lives an isolated life on a wooded mountainside. In many ways she is an ordinary teenage girl. She's has some insecurities, and she wants to make and have friends. But in one way she's far from normal: she comes from a long line of witches called Hellbenders. As the girl begins to taste her latent powers, will she follow the family tradition of isolation lest innocent people be harmed by the hellish forces she can control, or will she give into the whispering, nagging darkside within her and wield her powers without a care for the lives of others?
On to the extras and special features that RLJE Entertainment gave us for this new DVD. First, I got to say that I'm a bit sad there is no director's commentary for this film. With the behind-the-scenes story that this movie has, I would have loved to hear the whole story on how this film was made by the people that were so incredibly invested in the project. That aside, there are some noteworthy goodies to be found here. There is a featurette on the visual effects in the movie, which, considering what they were able to do with such a title, was a good watch. Then, do you remember when I told you that Zelda and John Adams made some original songs for the film? Well, there are four of them, and each gets their very own music video here. Cool. There is also a short and moody TikTok promo video, a collection of bloopers and behind-the-scenes footage, and a link to an online blog about the making of the movie.
Hellbender is a coming of age story with black magic. It punches way above its meager budget and everyone involved gives 110% all the time. While nothing too groundbreaking in terms of the plot, it is a fast and enjoyable watch. Consider it well recommended and for any would-be filmmakers out there, it is a must-watch.