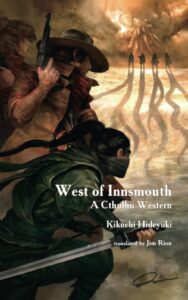 West of Innsmouth: A Cthulhu Western
Hideyuki Kikuchi
Kurodhan Press (2021)
Reviewed by Brian M. Sammons
I love Kurodahn Press. They specialize in taking Japanese horror and weird fiction authors and translating their stories into English, thus making them accessible to a whole new audience that, otherwise, would never get to read them. Even with an author like Hideyuki Kikuchi, who is already prolific and famous, their books don't always cross the sea. So big thanks go out to Jim Rion, who translated all of the stories in this book, and the little indie press that could, Kurodahn, for putting this volume out. But should you even bother to get it? Well, keep reading and find out.
Chances are if you know the name Hideyuki Kikuchi, then you know of his Demon City Shinjuku series of books that, yes, have been turned into a very graphic animated movie or two. In the same vein, you might know his Wicked City stuff (novels and anime), or what first made me aware of the man, the outrageously fun Vampire Hunter D. He has also done dozens and dozens more books, but these seem to be the most recognizable titles in North America. Now if you don't know any of that stuff then it's high time you try some of Hideyuki Kikuchi's tales and, if you have a previous appreciation for the cosmic horror of H.P. Lovecraft (and you really should), then this book is a great gateway drug.
I love horror westerns, there really need to be more of them. I mean, Joe R. Lansdale can't do it all by himself, no matter how amazing he is. Well, this is a fine and fun addition to that dusty subgenre, specifically focusing on the cosmic horror, AKA the Cthulhu Mythos, that Lovecraft gave to the world. It is clear that Hideyuki Kikuchi shares my love of both the western and Lovecraftian fiction in this collection of 11 interconnection stories, with such awesome titles as "The Gunman and the Ninja," "Town Without Law," and "Ghost Town Shootout." Those titles give you a hint of what to expect, but I'll further illustrate the point. Here a bounty hunter is searching the wild badlands of 1880s Kansas for four outlaws, but these aren't your run of the mill black hat desperadoes. They are the "Dreams Made Flesh," supernatural servants summoned up by the thoughts of the Sleeper in R'lyeh itself, the dead but dreaming Old One, Cthulhu. Along the way on his quest our hero meets horrors, historic figures such as Bat Masterson, Doc Holiday, and Wyatt Earp, and yes, even a ninja or two. He comes up against Innsmouth's own notorious Esoteric Order of Dagon who could be unexpected allies, or they just might have their own plans for the God that slumbers beneath the waves. Shootouts, sword fights, and sorceries are the name of the game here, caked in dry desert dust and smelling of fragrant fishman funk, and I could not be happier for it.
If you are looking to read something a little different than the same old, same old, then this is the book for you. If you're a fan of Lovecraft, the Wild West, or both, then this is the book for you. If you're a fan of Hideyuki Kikuchi's other high-action horror and sci-fi stories, then this is the book for you. And if you're a fan of all that stuff, like me, then this is really the book for you. I enjoyed the hell out of it and highly recommend it. And oh yeah, I also really love the title of this book. A whole lot.