WE FEED THE DARK: TALES OF TERROR, LOSS & THE SUPERNATURAL
by William P. Simmons
British Fantasy Award winner ADAM NEVILL fed the dark with critically acclaimed author WILLIAM P. SIMMONS…and you can too!
Adam Nevill, author of THE RITUAL and NO ONE GETS OUT ALIVE (both currently playing as films on Netflix), said this about Simmons' WE FEED THE DARK:
"Simmons draws from a well with waters deep and dark, that taste of grief, despair, and fear, to cultivate his surprising and innovative tales of horror."
 To celebrate the fantastic critical reception that Simmons' new collection has garnered, Shadow House Publishing is offering WE FEED THE DARK at a reduced cost for a limited time at Amazon. Grab the KINDLE edition or the TRADE PAPERBACK.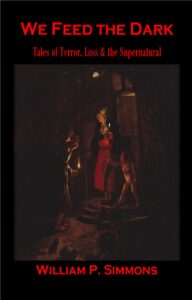 More praise for WE FEED THE DARK and WILLIAM P. SIMMONS:
"William P. Simmons is an outstanding talent and one of the champions of horror." – FORREST AGUIRRE, World Fantasy Award Winner
"A haunting, meta-fictional study in fear and grief." – JOHN PALISANO, Bram Stoker Award Winner and President of the Horror Writers Association.
"If words cut like knives, prepare to be eviscerated." – ERIC J. GUIGNARD, award-winning author and editor, including That Which Grows Wild and Doorways to the Deadeye