Announces the Release of:
Season of the Dead: Supernatural Horror for Halloween
Edited and Introduction by William Simmons
 TWENTY TERRIFYING TALES FOR HALLOWEEN, THE MOST FRIGHTENING NIGHT OF THE YEAR!
"The Dead return on Halloween…and this year they have a story to tell."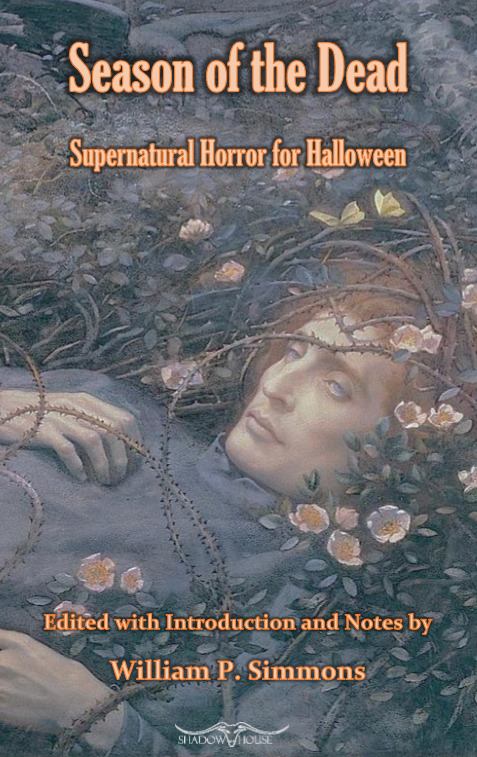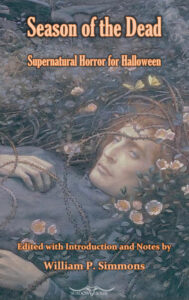 SEASON OF THE DEAD: SUPERNATURAL HORROR FOR HALLOWEEN opens the veil between the living and the dead with classic and rare supernatural fiction set on or around All Hallows Eve. Genre legends and unjustly forgotten authors unearth centuries of Halloween folklore and literature with terrifying tales of witches and demons, faerie and specters. Selected from the 19th and 20th centuries, these deliciously dark narratives visit a time when the tricks were deadly, the treats horrifying, and people feared the dead.
Halloween…Samhain…Nut Crack night…Dia de los Muertos…on this night, ghosts, goblins, and ghouls cross into our realm, the familiar turns strange, and our most intimate fears are unmasked. A night of dark wonder and magic, mystery and the macabre. A Season of the Dead….
EXPERIENCE HALLOWEEN LIKE NEVER BEFORE…light your pumpkin, lock your door, and listen to leaves scurrying in the wind…the dry, rustling feet of the dead. Experience the fear and mourning, the dark joy and excitement of All Souls with terrifying tales of Halloween and the dying season of October.
From landmark supernatural fiction by Edgar Allen Poe, Nathaniel Hawthorne and H.P. Lovecraft to obscure frights by William Huntley, H.B. Marriott-Watson, and Fitz-James O'Brien, this is a dark treat for every taste…with some nasty tricks! Fright favorites M.R. James, W.W. Jacobs, Bram Stoker, J.S. Le Fanu, and Robert W. Chambers stand alongside Nobel prize winning author Anatole France. Forgotten female authors are featured in all their funeral finery, including E. Nesbit, Edith Wharton, Mrs. Henry Wood, and Mrs. J.H. Riddell. Two rare stories from 'weird women' crown this creepy collection: "The Vow on Halloween", by Lyllian Huntley Harris, and "The Scarecrow", by G. Ranger Wormser.
Revisit October's mingling of dread, longing, and excitement. A celebration of Old Halloween, when the monsters at your door were real, dead ancestors returned, and you could encounter a demon on any dark road.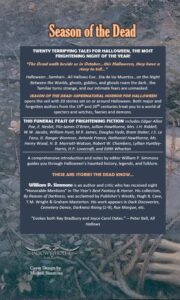 Editor WILLIAM P. SIMMONS guides readers through the undiscovered country with "Stories the Dead Know", a comprehensive Introduction examining the holiday's evolving history and customs through centuries of literature. This essay, along with Notes and Annotations creates an eerie and informative context for readers.
Available as a trade paperback and e-book at Amazon, Good Reads, and Shadow House Publishing this October.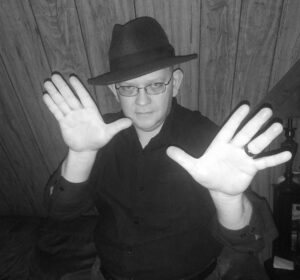 About the Editor:
"Avoiding horror's traditional icons and their premeasured fright potential, Simmons crafts impression packed sketches in which characters made vulnerable by overpowering emotions find their reality giving imperceptibly-but irresistibly-away to a disturbing surreality."– Publisher's Weekly
Publisher's Weekly finds William Simmons…scary.
Once you enter his world, so will you.
You see, William Simmons knows that we feed the dark. We nourish it with our fears, our desires, our tragedies. And in turn, we are fed by it. We share it with the ones we love and the ones we hate.
You do, too, gentle reader.
For to not feed the dark is to be devoured by it…and so the darkness spreads….
William Simmons tried to escape the darkness for over a decade. Now he has abandoned himself to it…embraced it…and will share it with the world.
Simmons "…evokes both Ray Bradbury and Joyce Carol Oates." – Peter Bell, All Hallows
William Simmons is an acclaimed author, critic, anthologist, and journalist specializing in supernatural horror fiction. Eight of his stories received 'Honorable Mentions' in The Year's Best Fantasy & Horror. His collection By Reason of Darkness received rave reviews from Cemetery Dance, All Hallows, and Publisher's Weekly, who called him "a writer whose approach is both original and refreshingly unconventional."
His first collection Becoming October sold out quickly upon release, and he collaborated on the Halloween collection Dark Harvest with author Paul Melznick. His stories have appeared in several venues, including Cemetery Dance, Flesh & Blood, Darkness Rising (1-9), Infinity Plus, Dark Discoveries, and many more. His poetry has appeared in Chizine, Gothic.net, Lullaby Hearse, Dead Cat Bouncing, etc.
Several bestselling authors have given him their unholy blessing, including the legendary late Hugh B. Cave and Tim Piccarilli. Graham Masterton, author of The Minatou, said Simmons "has the gift of making an ordinary day seem scary." Nancy Kilpatrick, author of The Goth Bible, said "Simmons has a knack for constructing dark, creepy, introverted tales, full of obscure terrors that reflect nearly mythical realms." And T.M. Wright, author of Strange Seed, compared Simmons' horror fiction to "like being taken back forty years and discovering Poe for the first time, and M.R. James, and Shirley Jackson."
An authority on supernatural and weird fiction, film, and folklore, Simmons has contributed reviews, essays, and scholarship to Rue Morgue, Publisher's Weekly, Wormwood, Hellnotes, Gauntlet, Cemetery Dance, and others. His review columns include "Dark Devotions", "Literary Lesions", and "Folk Fears". He contributed an introduction to Falling into Heaven, by Maynard & Sims, and his reviews have been blurbed for several books.
As a journalist, he created Our Ladies of Darkness, one of the earlier interview columns devoted to female genre authors, and Beyond the Fifth Dimension: The Twilight Zone Interviews, which spoke with surviving scribes of the influential television series. He also conducted two special chapbook length interviews with Richard Matheson and F. Paul Wilson, both for Gauntlet Press.
His reviews have been used as blurbs by Tartan Asian Extreme and he has contributed Liner Notes to DVD releases.
"His anthologies are carefully crafted, the stories bleeding into each other with seamless precision." – Maynard & Sims, Demon Eyes.
As an editor, he has worked freelance for The Earwig Flesh Factory, Underworlds, and Dark Discoveries. He has several anthologies and single author collections in development for Shadow House Publishing, including the PENNY DREAD!FULS series, the SHILLING SHOCK!ERS series, and THE HORROR HALL OF FAME NOVELLAS series, which features THE TERROR & THE COMING OF THE TERROR by ARTHUR MACHEN, THE THING IN THE WOODS by HARPER WILLIAMS, THE BECKONING FAIR ONE by OLIVER ONIONS, A PHANTOM LOVER by VERNON LEE, and THE CASE OF CHARLES DEXTER WARD by H.P. LOVECRAFT.
William has lived around the Catskill region of New York State for most of his life. He has worked as a paralegal, chef, teacher, housecleaner, bookseller, and a traumatic brain injury case manager. He is married with a daughter. He suffers from depression, anxiety, heart disease, and diabetes. He disappeared from the publishing world 13 years ago due to severe illness, personal tragedy, and inexplicable events that convinced him to stop writing horror fiction. Over a decade later, similar occurrences have prompted him to return.
While he won't speak about that time in his life, he offers a warning: there may be little difference between real life and fiction. We exist to feed the dark and in turn are fed by it….
William loves to speak horror with fans and readers, and is available for podcast appearances and interviews. Contact him at Facebook (@WilliamsSimmonsAuthor), Twitter (@SimmonsofNight), Goodreads, and Amazon Author Central.
SHADOW HOUSE PUBLISHING preserves our horror heritage with authoritative and affordable special editions of quality supernatural literature.