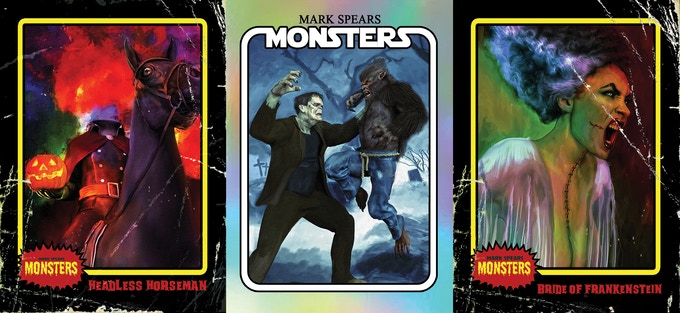 Spears Art LLC, a creative arts company based in Huntsville, AL, has announced an exciting new crowdfunding campaign on Kickstarter for its latest retro-style trading cards series. The collection, titled "Mark Spears Monsters Trading Cards," features 72 monster art cards with 20 sticker cards along with a parallel set as well as harder to find chase cards and hit cards. Each "Hobby Box" will contain 20 packs, with packs including seven randomized cards and one sticker card. To complete the collection's retro feel, each pack of cards comes with a piece of 80s-inspired classic bubble gum.
Mark Spears Monsters Trading Cards is inspired by the trading cards of old and aims to transport buyers back in time to their childhood. The collection boasts a variety of different card styles, from 3D cards to Black and White. Some classic monsters that buyers can expect to see include Frankenstein's Monster, Dracula, The Mummy, and many more.
With a total goal of $2,100, funds gathered through the campaign will help the company finish production of the cards. Early backers can secure their own Blaster Box for $39 that comes with 8 packs of cards or they can choose to receive a fuller offering with a Hobby Box for $99 that comes with 20 packs of these monstrous cards. There is even an option for a complete set of this Monster Series for only $249. Much like many other trading card series, this collection is expected to increase in value over time.
Individuals interested in the creative monster card series can visit the campaign's Kickstarter page at: https://www.kickstarter.com/projects/spearsart/mark-spears-monsters-retro-trading-cards