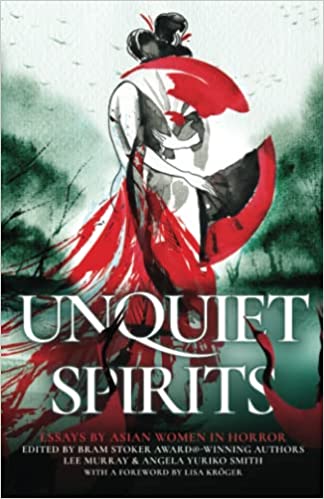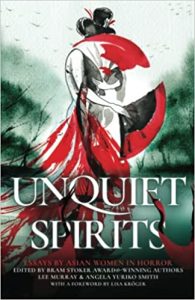 Unquiet Spirits: Essays by Asian Women in Horror
Lee Murray and Angela Yuriko Smith (eds.)
Black Spot Books (February 14, 2023)
Review by Elaine Pascale
Ghost stories shape us. Ghost stories are conceived within shared culture; they are passed down in family narratives, or they are inherited from the homes we inhabit. The ghost stories we whisper reveal more about us than about the spectral main characters. Unquiet Spirits contains non-fiction ghost and demon stories that are more than stories; they are gorgeous sketches that often read as a discussion between the author, her past self, and her struggle to understand her role in her family and her culture.
A running theme between the stories is the conflict of trying to bridge two or more cultures. The authors question "What is home?" and "Where do I belong?" and these questions give birth to untethered ghosts that haunt while seeking peaceful permanence. Interestingly, the authors do not fear the spirits they have encountered. Instead, they fear the generational trauma they have inherited and seek to end it before they pass it on to others.
I loved all the offerings in Unquiet Spirits, but a few stood out:
Lee Murray's "Displaced Spirits: Ghosts and the Diaspora" was the perfect opening to the collection. It synthesized the cultural and personal issues that appear in the anthology and clarified the implications with lovely, engaging language. Murray writes of hungry ghosts whose fate is determined by disobeying the rules of the patriarchy. Individuals can also become a hungry ghost if they immigrate during their lifetime as they may find themselves always hungering for home. The connection between hungry spirits and women seeking "self" resonated as most cultures treat female hunger as something undesirable if not something to fear.
Celine Murray writes about one of my favorite creatures in "Fox Daughter": the nine-tailed fox demon. This offering explains that when one comes from a mixed heritage there is always a struggle, always a loss. Murray writes, "the essence of the fox demon is a painful yearning to be more than what they are." This statement can be applied to all who find that labels don't necessarily fit or are confining, making the fox demon a sister in battle as opposed to a terrorizing fiend.
Benebell Wen's "Ghost Month in Taiwan" starts with a great hook: "I learned about demons before I learned about angels." Wen describes how she must creatively convince herself that she is not responsible for her uncle's demon and the hold it has on her family. This offering reads like a compelling work of fiction and made me wish I had a slumber party or campfire to attend so I could retell it. Netflix should really consider making this a movie.
Unquiet Spirits is an intimate, emotional read. It should be adopted for courses on myth and/or on horror as it is compelling, accessible, and insightful.  It should also be on the shelf of anyone interested in feminist literature. Unquiet Spirits does the important work of providing voice and agency to the mothers and grandmothers who have stories that must be told but were never permitted to tell them. Readers are doing themselves a disservice by not picking up a copy and paying heed to those voices.