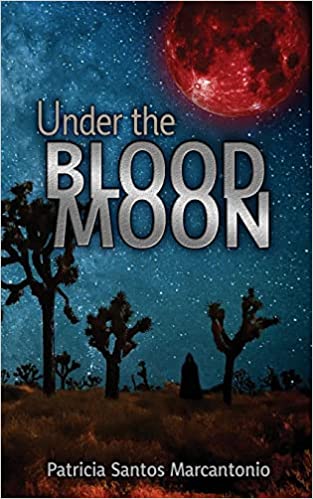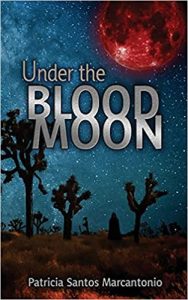 Under the Blood Moon
Patricia Santos Marcantonio
Dark Ink Books (August 17, 2022)
Reviewed by Elaine Pascale
It is certainly timely to be reviewing this novel during Hispanic Heritage month. Under the Blood Moon lovingly details the community and culture of Mexican descendants, paying tribute to the stories that have survived and continue to feed practices and celebrations. Taking place in Guadalupe, New Mexico, Under the Blood Moon is the story of a town that is preparing for its annual festival while also being plagued by supernatural events and murder.
The story has an invitingly creepy opener: Mo and Juan, elderly locals, are leaving the bar where they are regulars when they encounter a beautiful pregnant woman. She is in distress and in an attempt to help her, they witness her giving birth to a demon.
Shortly after, Guadalupe is faced with multiple ritualistic murders, including a victim who disappears in plain sight from a pool, and a body that has been skinned alive leaving behind one continuous piece of flesh. The victims (with the exception of the pool boy) seem to be connected to a controversial land development project yet the state of the bodies and the way the victims were dispatched point to an otherworldly source.
The main character of Under the Blood Moon is Matthew/Matteo. Matthew is a lawyer and is estranged from this wife, Isabel, who is a reporter. They share a son, Angel, who is gifted with prophetic dreams. Joining Matthew is his best friend from childhood, Bennie, who is a law enforcement agent. Together, Matthew, Isabel, and Benny try to solve the murders and return the town they love to normalcy.
I appreciated the continuing mystery of the supernatural. From my knowledge of Aztec and ancient creatures as well as Mexican and Latin American monsters, I kept trying to deduce who or what was behind the murders. While some "fit the bill," none were perfect suspects. I enjoyed revisiting monsters that I hadn't considered in some time.
I recommend this supernatural-detective story mash-up. I did have to read with a notebook beside me because there is an entire town of characters. While they were all realistic and some were quite charming, I needed a diagram to keep them straight. Marcantonio is an experienced writer who shares a love of Guadalupe with her characters, and this made for an engaging read.