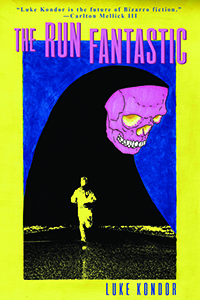 The Run Fantastic
Luke Kondor
Bizarro Pulp Press (August 27, 2021)
Reviewed by Andrew Byers
Looking for a surreal comedy about death and the afterlife? Look no further than Luke Kondor's The Run Fantastic. This is a quick, fun read, that amuses—and yes, makes you think—without devolving into silliness.
Ampersand Jones' life was finally starting to fall into place. He had found a job he liked and a woman he loved, and he just learned that they were expecting a baby. Ampersand resolved to get in shape for the new baby and his new role as daddy by training for a marathon. He dutifully set his alarm clock for 5:45am the next day to start his first run. Then he died in his sleep. But that didn't stop him from waking up on time, getting dressed in his workout clothes, and heading out for his first training run.
Despite being dead, Ampersand resolves to complete a 26-mile run no matter what. Along the way, he encounters reanimated intelligent roadkill, a running club led by a three-legged man named Teddy (we get to know Teddy very well and learn how he ended up alongside Ampersand), various horrors and cosmic monstrosities, plus the Grim Reaper himself, all while listening to his positive-thinking podcast episodes.
I found The Run Fantastic poignant, heartfelt without being maudlin, and genuinely funny in an absurdist (or even surrealist) sort of way. Lots of good fun here, both in terms of a truly unique vision of the afterlife and embodied in the trials and tribulations of an original character like Ampersand Jones. Very enjoyable, and I say that as someone who doesn't typically like comedy.
Funny, weird, and poignant. Definitely recommended.