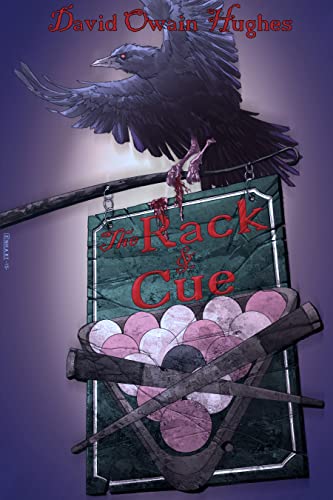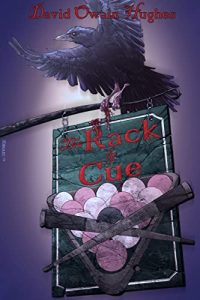 The Rack and Cue
David Owain Hughes
Plumfukt Press (November 16, 2022)
Reviewed by Andrew Byers
In The Rack and Cue, David Owain Hughes provides us with a promising premise: In the middle of nowhere during a terrible storm, an English pub (the eponymous "Rack and Cue") is hosting a billiards tournament with an unexpectedly extravagant prize for the winner. A number of different travelers from various walks of life—a couple female hikers, some truck drivers, a motorcycle gang, and some undercover cops on the trail of the motorcycle gang—seek shelter at the pub. This is not a group of people who are likely to get along well. In fact, these various relationships are a trainwreck waiting to happen. And there's one more problem: the family that runs the Rack and Cue, led by barkeep Porky, are not what they seem. I'm not really spoiling much by suggesting that if you've seen any of The Texas Chainsaw Massacre films, you'll have a fair idea what Porky and his kinfolk have in mind for their guests.
What follows is a brutal, savage, gore-filled slugfest that gets darker and grimmer the longer the billiards tournament goes on. As each loser of a match is sent off, they are ushered into the back rooms of the pub where they meet the rest of Porky's family. At about the 70% mark in the book, the story seems to be wrapping up with what I thought would be a fairly satisfying ending. Then it switches gears and some new characters—along with a supernatural element that I won't spoil—are introduced and the book lets this new situation play out. I don't think that was ineffective (think about what happens when From Dusk Till Dawn does something similar), but it did catch me off-guard so I wanted to mention it.
As one additional note, I should mention that this seems to be the revised second edition of the novel (first edition published in 2017, though I can't speak to how extensively those revisions were).
I had fun with this one. It's full of hyper-violence, gore, and lunatics of various stripes. Were there some occasions when I craved a little more depth? Yes, though not as much as one might expect. Despite all the blood, gore, and occasional grossouts—which I enjoyed, though your mileage may vary—characterization was solid and pacing was tight. All of the victims, er, protagonists are introduced thoroughly and we have a clear sense of who these people are and what motivates them. Blood and guts abound, but it's a rollicking good time. Recommended, you just have to understand what kind of ride you're in for.