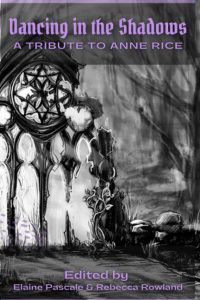 Dancing in the Shadows: A Tribute to Anne Rice
Edited by Elaine Pascale & Rebecca Rowland
Yuriko Publishing, LLC (May 22, 2022)
Reviewed by Andrew Byers
Given Anne Rice's untimely demise in late 2021, I was heartened to see a horror tribute collection emerge with Elaine Pascale and Rebecca Rowland's Dancing in the Shadows. It's a great testament to what will prove to be Rice's enduring popularity and influence on horror writers and readers alike.
I came to Anne Rice's fiction in the 1980s after reading first Poe, then Lovecraft, then King, then Barker. She wasn't like any of them, yet she drew on some of their long-established tropes putting her own unique spin on them with her blending of the gothic with horror, and vampires, and witches, and old houses that have been in the family for countless generations, and perhaps most of all, New Orleans. We see all of those elements prominently displayed in the various tales in this collection. While a couple of the stories didn't resoundingly call out to me as being especially inspired by Rice's work, many did, and I had a fun time reading each and looking for that indefinable quality that screams "Anne Rice" to me.
Because this is such a robust collection—nineteen stories in all—I'll just concentrate my review on a few of my favorites that demonstrate the strengths and breadth of the collection.
If I had to identify one common plot element across what seems like three-quarters of the stories in this collection, it would be dilapidated old Victorian houses that a member of the younger generation inherits from a dead relative, and then discovers the house is the site of some terrible legacy. I'm here for all of these stories, and yes, this does seem like a quintessential Anne Rice plot to me. The first couple stories in the collection, "House of Blood and Stone" by C.W. Blackwell and "The Witch Mirror" by Morgan Sylvia share this theme to good effect. Vampirism, witchcraft, generational magic traditions, and the sacrifices required by magic are all on display to powerful effect here.
What Anne Rice tribute anthology would be complete without troubled ghosts, and the effects of hauntings on the living? "The Rosary of Broken Promises" by Greg Herren and "Haint Gonna Happen" by Kristi Petersen Schoonover both have very different takes on hauntings. In "Rosary," a medium must help some ghosts move on, but this isn't a saccharin or maudlin depiction of ghosts being gently helped to resolve their old grievances and move along. In "Haint," a woman who worked at an aquarium realizes that her old lover continues to haunt the place he died and is now killing women who look like her. Really tragic and poignant, and Schoonover's knowledge of what working in an aquarium is like shows through clearly and lends a lot of verisimilitude and interest to the story.
Then we've got the stories with mere mortals as antagonists. In "A Little Stain" by Scotty Milder that turns out to be a case of a truly chilling piece of revenge by an ex-girlfriend when Chris' wife Susie dies in what seems like a single-car accident. Really, really good story about grief and unspeakable tragedy. Then in "Black Mold Lullabies" by Holley Cornetto, Maddie is a teenage girl who has been kidnapped by a serial rapist/killer and imprisoned in his basement. She's mostly bereft of hope but seeks salvation from a really unlikely source.
Because it's an Anne Rice tribute collection, the past, and reverberations of the past—often from the antebellum South—into the present are another common theme. In "Green As Life" by Lamont A. Turner, we see a man who finds a portrait of a woman painted in the 1850s and who is driven to obsession over her. He also discovers that the poor woman met a horrific fate. "Moss Manor" by Lee Andrew Forman is likewise set in the nineteenth century; here, a woman visits a man to be euthanized but comes to realize that there are in fact fates worse than death. That gothic theme carries over into "The Governess of Bethel Abbey" by Christine Lajewski, in which a lonely young girl finds a gothic novel with eerie parallels to her own life and, well, as expected, things don't turn out very well for her.
All told, this is a great collection, and a must-read if you're a fan of Anne Rice. Now that I've just finished Dancing in the Shadows, I think I need to go back and re-read Interview with the Vampire and The Witching Hour!