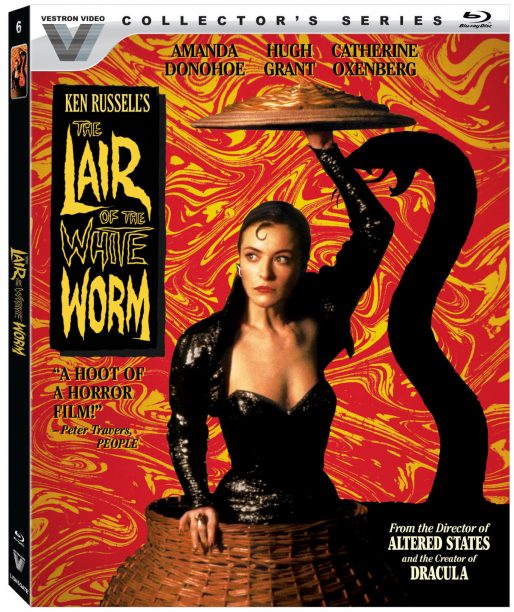 The Vestron cult classic horror title releases continue with The Lair of the White Worm, coming to Blu-ray on January 31st with all new special features!
Street Date: 1/31/17
Blu-ray™ SRP: $34.97
PROGRAM DESCRIPTION
A terrifying English legend returns when the Vestron Video Collector's Series brings the British horror classic The Lair of the White Worm to limited-edition Blu-ray™ on January 31 from Lionsgate. In a remote corner of England's Peak District, a mysterious skull is unearthed, then quickly stolen for use in worshiping a pagan god, the White Worm. Based on the novel by Bram Stoker, and starring Hugh Grant, the restored and remastered The Lair of the White Worm Blu-ray has all-new special features, including an audio commentary with Director Ken Russell and Lisi Russell and an interview with actress Sammi Davis. The Lair of the White Worm limited-edition Blu-ray will be available for the suggested retail price of $34.97.
OFFICIAL SYNOPSIS
Hugh Grant, Amanda Donohoe, and Catherine Oxenberg star in this mix of heart-stopping horror and campy humor. James D'Ampton (Grant) returns to his country castle in England. Legend has it that James's distant ancestor once slayed the local dragon — a monstrous white worm with a fondness for the sweet flesh of virgins. The young lord dismisses the legend as folklore, until archaeology student Angus Flint explores James's property and unearths a massive reptilian skull and a pagan snake god's ancient site of worship. When James's virtuous girlfriend, Eve Trent (Oxenberg), suddenly disappears, James and Angus set out to investigate the foreboding cavern said to be the worm's lair, where a centuries-old mystery begins to uncoil.
BLU-RAY SPECIAL FEATURES
Audio Commentary with Director Ken Russell
Audio Commentary with Lisi Russell, in conversation with Film Historian Matthew Melia
"Worm Food: The Effects of The Lair of the White Worm" Featurette
"Cutting For Ken" – An Interview with Editor Peter Davies
"Mary, Mary" – An Interview with Actress Sammi Davis
Trailers From Hell featuring an introduction and commentary with Producer Dan Ireland
PROGRAM INFORMATION
Year of Production: 1987
Title Copyright:Lair of the White Worm © 1988 Vestron Pictures Inc. All Rights Reserved. Artwork & Supplementary Materials © 2017 Lions Gate Entertainment Inc. All Rights Reserved.
Type: Theatrical Release
Rating: R
Genre: Horror
Closed-Captioned: N/A
Subtitles: English SDH
Feature Run Time: 94 minutes
Blu-ray Format: 1080p High Definition, 16×9 Widescreen 1.78:1 Presentation
Blu-ray Audio: Original 2.0 Stereo Audio