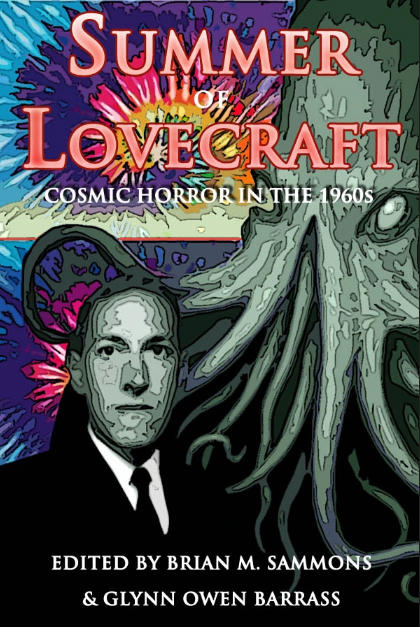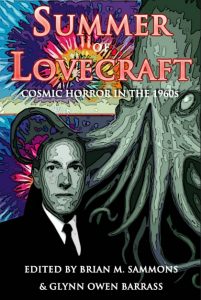 Summer of Lovecraft
Edited by Brian M. Sammons and Glynn Owen Barrass
Dark Regions Press (February 9, 2020)
Review by Bret McCormick
What do you get when you cross the 1960s with the Cthulhu Mythos? Summer of Lovecraft, an anthology edited by Brian M. Sammons and Glynn Owen Barrass. This beefy collection of 21 stories pays tribute to H.P. Lovecraft by extending his creations into a world that existed a couple of decades after his death. This seems especially fitting, since so many readers 'discovered' Lovecraft via the affordable paperbacks with lurid covers so ubiquitous on newsstands all across America in the 60s.
All the things one associates with the 60s: sex, drugs, rock and roll, surfing, Nixon, Kennedy, Vietnam, the CIA, Kent State, Martin Luther King, Madison Avenue, birth control, Italian cinema, NASA missions, the Beatles, Hunter S. Thompson, and even Ed Sullivan can be found in these entertaining pages.
Some of the stories, such as The Long Fine Flash by Edward Morris, work exceedingly well because the author clearly has a knowledgeable love of the era and its notable participants. Others pepper the page with low-hanging fruit references that could easily have been lifted from a quick visit to Wikipedia. These are easy to spot, because the 60s were all about counterculture, baby! In the fifty years that have passed since we bid that magic decade farewell, the mainstream media has done a nice hatchet job on said counterculture, leaving nothing but a whittled-down caricature. Those who did not live through it, or have not delved deep into the details, have only a pale, lip-service concept of that grand societal eruption.
"I've arranged it myself, Thompson," she told me, out the side of that Fabulist mouth with the one silver canine. This delightful line of Morris's definitely stuck in my craw.
"Ah, God, Bubba, there is so much more to tell. I want to paint every day of our time, the true Summer of Love that began for me that spring, what it all really meant beyond designations and definitions," Morris/Thompson tells us midstream in The Long Fine Flash.
It's easy to fall in love with prose of this breed, and equally easy to fall in love again with the 60s.
One thing you'll find in Summer of Lovecraft that was conspicuously absent from H.P.'s stories is humor. Sometimes it's subtle and sardonic; in other places it's overt. Perhaps this is the inevitable outcome of looking back to a literary oeuvre that was already archaic in its own time, or maybe it's the fallout from a literary scene in which post-modernist fiction has run its course. In all fairness, the humor began creeping into the Cthulhu mythos with the works of Lovecraft's co-conspirators: Bloch, Long, Derleth, and Howard, among others.
Two of the stories, Operation Alice and Through a Looking Glass Darkly, have a distinctly authentic Lovecraft 'feel' to them, dark and humorless, full of dread. Others in the collection run the gamut of mostly serious to mostly humorous, but all deliver sinister otherworldly scenarios worthy of the reader's attention.
***
Night Trippers by Lois H. Gresh
Norman Rockwell, 20th century artist known for his pleasant portrayals of American life on Saturday Evening Post covers, once complained, "the problem with doing Nixon is that if you make him look nice, he doesn't look like Nixon anymore." Rockwell wasn't the only one who found Nixon's facial features grotesquely not-quite-human. Lois H. Gresh offers a Lovecraftian explanation of the president's physiognomy.
Being for the Benefit of Mr. Sullivan by Lee Clark Zumpe
Speaking of strange heads attached to human bodies, Mr. Ed Sullivan, TV impresario, turns out to be the Mr. Sullivan mentioned in the title of the story by Lee Clark Zumpe. Not only is he gruff and less than polite with his employees, but it turns out Ed holds the key that could control demonic access to our world.
Dreamland by David Dunwoody
Isn't it interesting that writers can use the names of former presidents and TV bigwigs with impunity, but they fear to use the name Walt Disney? I can only assume the guy left behind a formidably litigious legacy. Dreamland's a top-notch piece of imaginative fantasy with simultaneously colorful and dark overtones. Like a 1966 acid trip, this one delivers unexpected goods.
Lost in the Poppy-Fields of Flesh by Konstantine Paradias
Paradias is hooked, addicted to something on the other side of the veil, an entity or maybe just a nameless force eager to fill the minds of humans with dreadful apocalypse. He says he can quit at any time, but chances are, this is simply not true. Like the Grim Reaper, he always seems to be smiling.
Five to One by Edward M. Erdelac
A Kent State-style demonstration at Miskatonic U is confronted by the National Guard, with horrifying cosmic consequences.
Keeping the Faith by Sam Stone
In the days following Martin Luther King's assassination, Dominique keeps to herself, shunning the white folks in her town as well as the members of her own African-American community. Taking solace in the ancient faith of her mother, Dominique becomes a conduit for what seems like righteous revenge, but is in fact an eldritch appetite which can never be satisfied.
Mud Men by Sean Hoade
Old God Dagon has enjoyed the worship of a select group of human followers for millennia, but after the 20th century passes its halfway mark, maybe it's time to enlist the aid of those clever chaps on Madison Avenue.
Misconception by Jamie D. Jenkins
Kindly Dr. Wade wants to provide family planning for the people of New England, but his pills don't garner the results Kathleen and her husband were hoping for.
No Colors Anymore by Joe. L Murr
Pretty boy actor Alan Wheeler, of the UK, returns from a psychedelic sabbatical in Nepal to find his career has fizzled. His manager, George Tremain, manages to get him a lead role in an Italian crime film, but the assignment only leads Alan deeper and deeper into a darker version of reality.
Operation Alice by Pete Rawlik
One of the most authentically Lovecraftian tale of the bunch, Operation Alice, provides the sort of paranoid Twilight Zone-ish science fiction H.P. might have written himself, had he survived into the 1960s.
Shimmer and Sway by Jayaprakash Satyamurthy
Wilson marched boldly, proudly into that most devastating of wars. He gave his all for what? So that his beloved England could be overrun by long-haired boys and short-haired girls all trampling on propriety? He will use them and their infernal music to bring forth the Old Ones.
Short Wave by Stephen Mark Rainey
Apollo 11 sparks the imaginations of two boys who hope to use a short-wave radio to listen in on NASA communications. They establish contact with beings from other space, looking for a world to cultivate.
Project Azazel by Christopher Slatsky
Casket's one righteous dude, and Undertaker's a fox and a half with ice water running in her veins, but these two detectives never saw this shit coming. Time to dance with the devil and, if only for a New York minute, forestall the end of the human race.
The Song that Crystal Sang by Tom Lynch
Hippies in the woods invite Jake into their family. It's groovy the way nature provides for them, but Jake soon realizes nature expects to be repaid.
Through a Looking Glass Darkly by Glynn Owen Barrass and Brian M. Sammons
Another very Lovecraftian story, making use of Frank Belknap Long's contributions to the mythos. Those damn intelligence agencies intent on perfecting mind control always seem to have their own minds seized by something bigger, darker, and less human.
The Color from the Deep by William Meikle
It's easy to imagine this moody tale as a black and white motion picture produced by Hammer Studios in the mid-60s … before color took over the movies.
The Long Fine Flash by Edward Morris
Hunter S. Thompson possesses Edward Morris to share the truth with us. Mostly truth. Maybe the truth we deserve?
The Summer of Love by C.J. Henderson
What happens when the police find an apartment full of hippie parts, a charnel house of dismembered flower children, and have little to go on other than the meandering explanation of the lone drug-addled survivor? The careful interrogation leads detectives Baine and Johnson further and further away from anything they'd consider reality.
Just Another Afternoon in Arkham, Brought to You in Living Color by Mark McLaughlin and Michael Sheehan, Jr.
The most overtly humorous tale of the bunch uses the premise of Lovecraft's The Colour Out of Space to explore the complaints of a teen boy stuck on the family farm just outside Arkham.
Wonder and Glory Forever by Scott R. Jones
What would an anthology honoring Lovecraft be without the sea? And what would the sea and the 60s be without surfers?
Crystal Blue Persuasion by Jeffrey Thomas
Resonance. Like changing the dial on a TV or a radio, the CIA has developed technology to open doorways into other dimensions, vibrating at frequencies far different from our own. Naturally the technology has been weaponized, there are hungry things on the other side, and the perfect testing ground is Vietnam.
Each of these 21 tales provide their own unique flavor to this literary stew. Hungry readers should not hesitate to dig in.