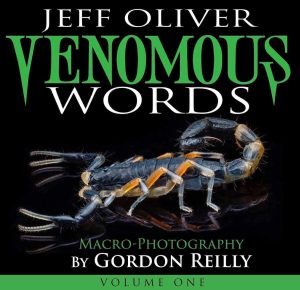 Venomous Words
Jeff Oliver
Blurb Books (May 11, 2022)
Reviewed by Nora B. Peevy
I might be a bit biased because I was married to an arachnologist and never outgrew my fondness for the love of tiny insects wandering around us day and night, but Venomous Words by Jeff Oliver with macro photography by Gordon Reilly is one of the most sumptuous and decadent books of poetry I've read in years. The additional accompanying poets, Noe Basurto, Brandon Scott, Stephen Remillard, Reinaldo Torres, Chris McAuley, Joe R. Lansdale, and Xtina Marie only add to this feast for the eyes and ears.
Each page tantalized my sense with color, texture and emotion. Jeff Oliver writes poetry about humanity's and the invertebrate's life's confessions and the daily madness of living. It's a diary of our deepest hurts and secrets. The photography is haunting and gorgeous, illustrating how fragile life is for all of us. Oliver and Reilly have choreographed an artful ballet upon the page and we are lucky enough to have front row seats to the passion, the melancholy, and the pain, a feast for the eyes and the soul; ennui with eight legs. My favorite poem is one of the shortest:
Throwing Fire
by Jeff Oliver
When the voices speak and call my name
I guarantee I'm throwing fire from this cage.
I enjoyed the vivid color photographs between the poetry with tantalizing bite size facts about the insects because I am a person always wanting to learn something new in every book I read. I also liked the faded images letting the words sing their truths while the dancers illustrated the song in the background. I highly recommend this book to photo collectors, dark poetry fans, and entomology lovers. It is a one of a kind delight. Well done!