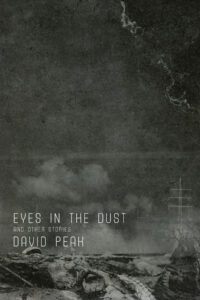 Eyes in the Dust and Other Stories
David Peak
Trepidatio Publishing (April 2, 2021)
Reviewed by Ray Palen
It's always nice to be introduced to new voices in horror and with the short-story collection EYES IN THE DUST by Chicago writer David Peak, we get two. The first is obvious, David Peak and his collection of scary tales, but the other is the eye-opening and insightful introduction by writer Christopher Slatsky.
Slatsky's introduction poses questions to the reader: "What is the appeal, if any, of unpleasant storytelling? What allure in the dreary?" He goes on to supply his own answers to these questions and it makes for great reading and the ideal set-up for the group of horrific short stories from the mind of David Peak that are to follow.
In "Helping Hands," young Betsy finds a stack of arms as well as the bodies of dead children. She is shown all this by Village Leader, Malmoud, in their landscape in South Sudan. This fantastical tale finds a giant mosquito asking Betsy what she would ask for if she had one and she replied: "I would like more hands." This is so she can help more people in the world—the results I will leave to your imagination.
"Out Of Step in the Kingdom Of Our Lord" finds young Howard Parker, one day removed from his thirteenth birthday, accepting an invitation to tea at the home of his eccentric Aunt Lillian. His parents are dead, so Aunty is all he has. It is at this time that Howard explores his dark fantasy world or kingdom, and the horrific woman who waits for him there.
"Phantoms" is told from the vantage point of the Iraqi Kurdish who have always lived amidst skirmish of some type. They are ambivalent about the presence of the American army that is there. There is a symbolic reference to the feeling of 'phantom' limbs, once someone has lost one—especially in tragic circumstances. This philosophical short story compares mankind to animals in this situation and questions what animals know and feel that we do not.
"The Final Diagnosis of Doctor Lazare" opens with Doctor Lazare describing the surgical procedure he is about to begin to a patient who has no idea what he is doing there or what this strange procedure is. When a man named Malcolm is asked what he witnessed in Lazare's surgical theatre he simply states: "I can't be who I think I am. It's just a symptom of my illness." A bizarre story of pain, healing, and completely losing oneself to it.
"The Schoolmaster" opens with a man overhearing a killing in the street outside of his apartment. The man is a teacher of children, and he learns from what he sees. For instance, he writes down the details of the murder he has witnessed, and it is here where the horror began for him. He also learns from his children, as his students make him aware that if you listen closely to the sounds of the night, you will hear the soft treading of ghosts.
The last story I will explore is "The Gutter at the Bottom of the World." This story is set in the world of filmmaking and photojournalism, much like the movie NIGHTCRAWLER. Kate discusses the bravest actress she has ever known, Bianca Rhodes, and how her sacrifice in the effort of becoming someone else on the screen will allow her to live forever. Kate also brings up the name of another actress, Melody Carmichael, who was murdered a few days earlier. Melody had an interesting symbol tattooed on one of her fingers—she also looked eerily like Bianca Rhodes.
David Peak's stories in EYES IN THE DUST are deeply layered with ideas and imagery, even those tales that are really short. They range from the surreal to the supernatural and each story will leave you thinking long after the final word has sunk in. I am eager to see what Peak has in store for us next and would love to see a full-length novel from him.