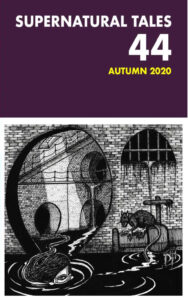 SUPERNATURAL TALES #44, Autumn 2020
Edited by David Longhorn
Reviewed by Mario Guslandi
David Longhorn's brainchild, magazine/anthology Supernatural Tales has now reached issue #44, and continues to offer to dark fiction readers a selection of new material penned by both veterans of the genre and new, emerging writers. The Autumn 2020 issue features seven original stories apt to thrill and entertain the readers.
Here are my favourite tales.
"Steam" by  Sam Dawson is an excellent, atmospheric tale of darkness and horror, set in the steamroom of a gym, while "Endless Halloween" by  distinguished author/editor Michael Kelly is a vivid story where a tragedy from a past Halloween remains an unforgettable, distressing memory.
Victoria Day contributes " Dr Hopkins' Tale", a disturbing, sinister yarn of evil possession told in a very effective narrative style.
To me the highlight of this magazine issue is "Report on the Death of a US Citizen," which marks the return of one of my favourite authors of dark fiction after a long hiatus. The story, set in the '40s, is narrated by a young attaché of the US Embassy in Mexico City, and blends horror, mystery and local legends in a fascinating, breathtaking fashion.
Other contributors are James Machin, Mark Patrick Lynch and Mathew F Riley.
Enjoy.