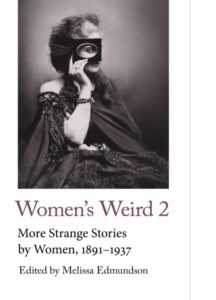 WOMEN'S WEIRD 2 – More Strange Stories by Women
Edited by Melissa Edmunson
Handheld Press, 2020
Reviewed by Mario Guslandi
The contribution by female authors in the field of classical supernatural and dark fiction (horror stories, ghostly tales, etc.) is so impressive that there's no need to quote examples. Yet, a reminder of this undisputable truth is always in order and those lady writers (often publishing to support a family and sometimes an ailing or downright lazy husband) deserve praise and respect.
Unfortunately I missed the first volume in this series, but I guess it must have been successful enough to grant a follow-up. The current volume includes thirteen stories that formerly appeared  in print between 1891 and 1937.
Let me tell you that all the tales are well worth reading, both those written by famous authors and those penned by more obscure, elusive writers.
"Twin-Identity" by Edith Stewart Drewry is a nice crime story where the solution is found by a woman detective with a bit of supernatural help, while "Florence Flannery" by Marjorie Bowen is a vivid,offbeat tale of misery, madness and predestination.
Haunted places represent a good inspiration also for women authors. "The Blue Rooom" by Lettice Galbraith is a delightful variation on the theme of the haunted room, whereas " The Red Bungalow" by Bithia Mary Croker is a tragic take of the haunted house subject graced by an exotic taste ( the story takes place in India).
"The House Party at Smoking Island" by Lucy Maud Montgomery is an accomplished enough piece of supernatural fiction, which would have turned out more even effective if narrated in a more concise fashion. "The Black Stone Statue" by Mary Elizabeth Counselman is an ingenious story, suspended between horror and SF, featuring an amazing creature endowed with a singular power.
Other contributors to the volume are: Sarah Orne Jewett, Barbara Brayton, Mary E Wilkins Freeman, Katherine Mansfield, Bessie Kyffin-Taylor, Helen Simpson and Stella Gibson.
All in all, a very enjoyable anthology, recommended to all weird fiction lovers.