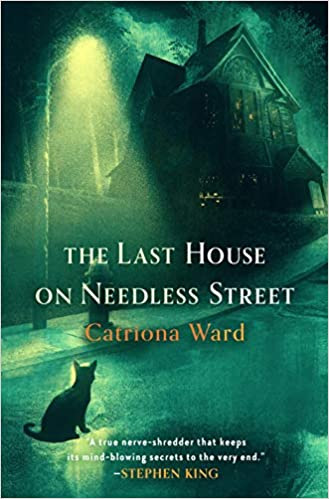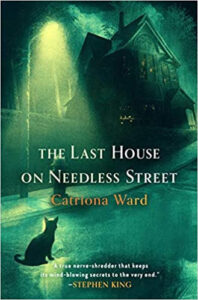 THE LAST HOUSE ON NEEDLESS STREET
Catriona Ward
Tor Nightfire (September 28, 2021)
Reviewed by Ray Palen
I predict that Catriona Ward's THE LAST HOUSE ON NEEDLESS STREET will be a literary horror novel that everyone will be talking about. When I saw the running list of blurbs from horror dignitaries such as Stephen King, Joe Hill, Adam Nevill, and Paul Tremblay, I went out of my way not to read anything about the novel itself. I decided to just let the story unfold around me. And unfold it did. This novel is so well crafted I guarantee readers will finish the last sentence and then want to go back and reread certain passages that now appear clear.
Each chapter is from the perspective of a different character. First off, we meet Ted Bannerman. For him, it is the anniversary of Little Girl with Popsicle, which has not been eleven years. With him is his cat Olivia, whom Ted gives full personification to, and readers will actually be able to enjoy chapters written directly from Olivia's perspective (a first for me in horror fiction). Also with them is a teenaged girl named Lauren. Whether or not she is Ted's daughter or not is up in the air at the start of the novel. Believe me, you will have plenty of questions throughout this story, and it is better to just go with the flow and allow the narrative to transport you. Catriona Ward is far from done with you yet.
Ted's house is the last house on Needless Street, and next to it are the woods. Ted is convinced that something is buried in those woods, and he wants whatever it is to stay there. Much of the novel drifts between past and present, and it can at times become difficult to determine where we are on the timeline. A new neighbor stops by the house to introduce herself to Ted—Dee, a young woman who is brand new to the area. Meanwhile, Lauren is confronting Ted/Dad about his providing her with more freedom and allowing her to get out of the house, where she is being home-schooled. This does not sit well with Ted.
With Dee's chapters we learn that she is the older sister of a young girl who was abducted while at the beach with the family. Her sister was never found, and Dee has not ceased in her efforts to find her. Currently, her focus is on Ted Bannerman and the strange house on Needless Street. She may end up getting more than she bargained for. Ted believes that an intruder has been inside his house. It's the worst feeling since that time at the mall years earlier where he came close to being found out—to being seen for what he really is.
THE LAST HOUSE ON NEEDLESS STREET is psychological horror of the highest order, disguised as a Russian doll of a novel, with layer within layer holding new characters and secrets. The ending is propulsive and shocking and definitely had me re-running prior scenes in my head to assist with putting the pieces together. This is a story the reader must work for to enjoy—but it is so worth the effort!