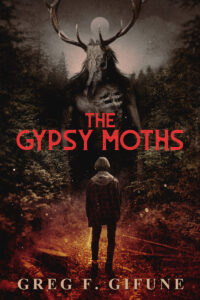 The Gypsy Moths
Greg F. Gifune
JournalStone Publishing (December 3, 2021)
Reviewed by Andrew Byers
There comes a time in almost every horror writer's career when they're practically obligated to write a coming of age narrative: Robert R. McCammon wrote the classic Boy's Life, Stephen King has "The Body" and It, Dan Simmons authored Summer of Night, and there are many, many other fine examples. In part, I think the attraction is about nostalgia: as we all get older and become weighed down with all the concerns of adulthood, we tend to think back on those lost summer days when we were teens and pre-teens, exploring the world with optimism and blissfully unaware of everything that was to come. It's not as though teens don't have their own worries, of course—problems with family, school, and bullies, angst about the future, finding one's own place in the world, among many others—and this time in life is certainly ripe with potential for horror. The Gypsy Moths is Greg Gifune's coming-of-age horror novel, and it's a fine entry in this subgenre, exploring the trials and travails of every teenager while adding the threat of madness and horror we've come to expect from Gifune's work.
Most of The Gypsy Moths takes place in the summer of 1977, when four boys, led by narrator Frankie Boy Molinari, are fourteen years old and trying to enjoy life in small-town Massachusetts. None of the boys have ideal homelives (Frankie Boy's dad has lost his job and probably gone mad, for example) and must dodge bullies and cops, while also navigating social pressures and the raging hormones of teenage boys. That summer of 1977 turned out to be a fateful one in their lives: they alone came to realize that there was a monstrous, powerful, and hungry entity in the woods outside their town, preying on the inhabitants and pursuing anyone who had the misfortune to witness it, which, of course, comes to include the boys. They've got to do something about this thing if they want to save themselves, their families, and their town, but like so many adventures of teenage protagonists, they are on their own.
The novel's main narrative is interwoven with occasional chapters from the summer 2017, when three of the boys, now much older men, have returned to their hometown of Samoset for the funeral of their childhood friend. The Gypsy Moths' tone is decidedly melancholic, both in the main narrative in 1977 as well as the 2017 chapters. Life wasn't especially kind to the boys, either when they were growing up, or in the intervening years. I'd say only one of them—Max, the gay kid who grew up to have what seems to be professional success along with a loving husband and children—found true happiness. The rest either failed to launch or, in the case of the narrator Frankie Boy, just never found joy after their lives were altered forever in 1977.
The Gypsy Moths has a somber, though not bleak atmosphere. I love stories about underdogs struggling against overwhelming odds, and four teenage boys against an implacable and ancient evil certainly fits that bill nicely. This is not a story of people doomed to experience unspeakable horrors no matter what they do; this is the story of people who don't exactly have terrific childhoods—parents, friends, and family are all deeply flawed—but who nevertheless have agency, potential, and competence. They demonstrate that even though they are "just" teenagers, they can accomplish great feats, though at tremendous cost. Gifune's characterization is top-notch, as always. The protagonists and those they interact with are fully-realized and true to life.
If you've read Greg Gifune's work previously, you know exactly what you can expect here: a tightly-woven, character-driven story brimming with savage horror. (If you haven't, then The Gypsy Moths is a good one to start with, though my favorite Gifune novel remains The Bleeding Season, which I reviewed here way back in 2013; it remains one of my top 10 horror novels of all time.) The Gypsy Moths is highly recommended.