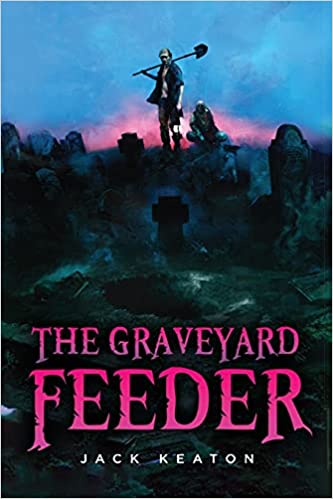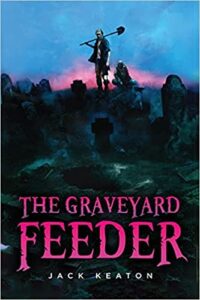 The Graveyard Feeder
Jack Keaton
Decayed Films, Ltd. (September 21, 2021)
Reviewed by Elaine Pascale
Jackson Boylen discovers that his wife, Delores, has been harboring a dark secret. Even though they have been married for half a century, he didn't know what she was. In an attempt to rid the world of evil, he kills her. This act unleashes the titular graveyard feeder.
The story focuses on ne'er-do-well gravedigger Burke Sawyer, who is given the responsibility of cremating Delores' corpse. Naturally, he botches the assignment, and Delores proceeds to feed on and destroy the graves in the cemetery. The graveyard has already come under scrutiny for shady practices, and lawyer Shelly Tate is terrorizing Burke and his boss, Purvis Pookutty, almost as much as the still beating black heart of the witch.
To complicate matters, Burke is visited by the ghost of his deceased father. Pop insists that Burke stop the witch, as his own cadaver is on the buffet line of the graveyard feeder. There are further twists on the journey to stopping the witch, but this should be enough to wet a reader's whistle.
Keaton is the pen name of a filmmaker, and the writing in The Graveyard Feeder is highly visual. It is sparce and active, yet it takes a few chapters to fall into a rhythm with the language. The first few chapters have a shifting point of view that is a little distracting, but mid-way through the writing evens out.
There is a lot of humor mingled in with the gore. The characters are caricatures, but that works well with the irreverent tone. I have always enjoyed stories about older women engaging in the dark arts to stay young. Any fan of the Real Housewives franchise knows this concept tracks.
The Graveyard Feeder is a fun read. It is fast-paced and funny. It would make for an entertaining gallows humor film.