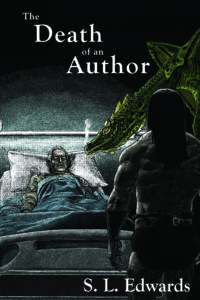 The Death of an Author
S. L. Edwards
JournalStone (June 25, 2021)
Reviewed by Andrew Byers
I didn't know S. L. Edwards' work prior to reading his newest collection of horror stories but after reading The Death of an Author, I'm a fan.
This is quite an eclectic collection of (by my count) sixteen stories, ranging from a couple of flash fiction pieces to much longer works, with something to whet the appetite of almost any horror fan. I would also note that some of the stories are not simply horror, but, as Edwards describes it, "weird fantasy." Let me give you a sample of some of my favorites from the collection.
We've got "A Slower Way of Starving," which is about a teenage girl who has to grow up way too fast as a pizza delivery person in the midst of a full-on zombie apocalypse(!). How about "She Never Killed Spiders," which manages to combine "Beauty and the Beast" with Clark Ashton Smith's medieval French Averoigne setting? Then we've got "Bestia," in which a young woman named Khari, who lives in a small tourist trap of a town on Texas' Gulf Coast, struggles to survive in a situation that I might suggest loosely combines Jaws with It. (By the way, I loved the character of Khari Lopez and very much want to see her reappear in a future story.) We've also got "With All Her Troubles Behind Her," which manages to bring one of my very favorite stories from Greek mythology into the Old West. There was also the wonderfully evocative "Allister's Garden," about a man who has become the servant, lover, and captive of a powerful vampire. Perhaps my favorite story in the collection, and the one that left the most long-lasting impression, was the eponymous "The Death of an Author." Here, we have an elderly pulp fiction writer on his deathbed in a hospice surrounded by those who have loved him best. Extremely poignant without being even remotely saccharin. There are many more stories I could highlight here, but those stand out especially prominently in the collection, which covers a breathtaking array of genres and themes.
I would be extremely remiss if I didn't make special note of Edwards' five Cthulhu Mythos stories, all of which blend political satire, contemporary American politics, and the Mythos. Three of the stories revolve around the political ascension of Congressman Robert Marsh (of the Innsmouth Marshes). Edwards notes that the first story ("The Cthulhu Candidate"), in which Marsh drives many of his viewers insane in the course of a television interview, was originally intended as a one-off, but over the course of the last few years Edwards wrote several more. The Marsh saga culminates in "The Ambassador in Yellow," which shows a negotiation between the Marsh administration—our least favorite congressman is now president—negotiating with the Carcosan ambassador, which has entered our world and maintains an embassy. Edwards' other Cthulhu Mythos tales revolve around that venerable institute of higher learning, good ol' Miskatonic University, which is always one of my favorite settings in Lovecraft country. I enjoyed all of Edwards' Cthulhu stories immensely and appreciated the blending of political satire with a warning about the power of dangerous demagogues.
As I've mentioned in previous reviews, I very much appreciate it when authors include notes for each story, and we have those here in abundance. It's always a fun opportunity to read the author's reflections and influences immediately following a story. These are well done.
Highly recommended. No matter what your dark fantasy/horror predilections are, there's something for you to enjoy in The Death of an Author.