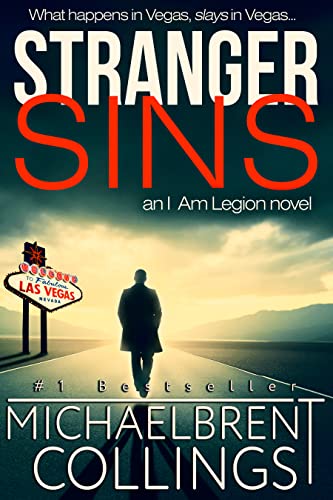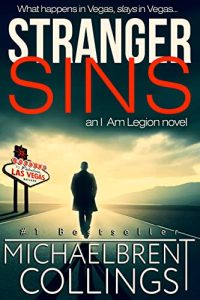 Stranger Sins
Michaelbrent Collings
Written Insomnia Press (November 25, 2022)
Reviewed by Andrew Byers
Stranger Sins is the latest stand-alone entry in the Michaelbrent Collings' horror thriller series "I Am Legion." I reviewed the first book in the series, Strangers, way back in 2013, as well as books two (Stranger Still) and three (Stranger Danger).
In this latest entry of the series, itinerant serial killer-turned-vigilante Legion is nursing his wounds and finds himself in Las Vegas (the seedy parts of the city that tourists don't venture into). He comes to the aid of a mother and daughter clearly on the run from professionals. Legion can't help but intervene, and finds himself embroiled not just in the personal drama of these two strangers but the family and associates of a couple of the monstrous killers Legion did away with in Stranger Still. You see, in the course of his career as a monstrous righter-of-wrongs Legion has crossed paths with some very bad people—the unspeakably evil kind, not just run-of-the-mill crime bosses—who are now very interested in finding him and taking their revenge. Some of these very same people are the ones after this mother and her daughter that fate, or some higher power, have brought into contact with Legion. Legion thus finds himself the target of revenge while also trying very hard to save two innocents.
Over time, Legion's personality has become much richer; he's no longer the implacable and unstoppable slasher killer of the first novel, nor is he some sort of Dexter clone struggling to fit in with normal society. These developments are very much welcome. His dead brothers' personalities still inhabit his mind, though he begins to question if they're really just figments of his imagination or parts of his own personality in conflict with itself. While those brothers ("Fire" and "Ice") have not always been my favorite parts of the series, their banter here is interesting rather than that of two younger brothers who can't stop arguing with each other. In our journey into Legion's psyche, we also see the addition of Father, the monstrous paternal figure who raised Legion and his brothers and made them the twisted killers that they became.
As with previous entries in the series, Stranger Sins's pacing remains tight and I found the action, horror, and violence satisfying. This is a book about bad people—very, very bad people (and a couple very, very good ones)—and Collings doesn't shy away from showing his villains at their worst. There was a very nice set-up for a sequel to this one at the end (recurring villains are always fun in horror thrillers), so I am looking forward to seeing where Collings takes Legion next.
As with the first three novels in the series, I very much enjoyed Stranger Sins and recommend it to fans of serial killer-based horror thrillers. Collings is at his best when he's at his most unhinged and really unleashes the bizarre characters that populate his novels to do their worst. We've got plenty of that here, and I'm looking forward to more of these delightfully over-the-top villains in the next Legion novel.