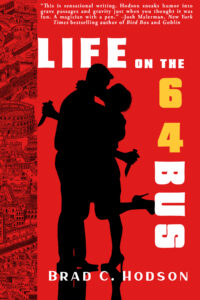 Life on the 64 Bus
Brad C. Hodson
JournalStone Publishing (August 6, 2021)
Reviewed by Andrew Byers
I'm glad I read Life on the 64 Bus. It's not my typical sort of book, with most of my fiction-reading consisting of horror, or at least horrific, fiction, but I do enjoy crime novels, and I'd kinda sorta describe this one as a novel with crime elements. I must confess that Life on the 64 Bus is hard to categorize, but don't let my inability to fit this novel neatly into a categorical box prevent you from reading it.
Here's roughly what it's about, then I'll tell you why I think you should read it.
Keats is a young American guy whose life has collapsed in disaster: he's got some fairly significant mental illnesses and his love life is in ruins, with a recent divorce and a breakup with a girlfriend still raw. Hoping to try to somehow connect with his dead mother who spent time in Rome, he travels there, not knowing what else to do with his life. On his first day in Rome, Keats has his wallet and passport stolen by a con artist while traveling on the 64 Bus, the route on which most tourists travel to see the sights. Keats tracks down the thief, who turns out to be a woman named Shelley, with whom he promptly falls in love. Shelley (and soon Keats) is part of a band of thieves and con artists, led by a madman called the Carny, who live under the city in the catacombs. Keats soon becomes embroiled in a life of petty crime and gets tangled up in disputes with rival criminal gangs and the Mafia. Along the way, he tries desperately to (1) survive, (2) regain his sanity/equilibrium/happiness, and (3) navigate a bunch of passionate and complex relationships with Shelley, the Carny, and others. Oh and the Carny is spiraling into madness, which places them all at grave risk, so he's got to deal with that too.
Why I think you should read it: Life on the 64 Bus has got wonderfully detailed characters, both major and secondary, who come alive. These aren't cardboard cutouts: Keats, Shelley, the Carny, and others all seem like real people with complicated hopes, dreams, goals, and problems. Despite his many flaws—and he'd be the first one to admit them—Keats is a likeable guy; you want him to make the right decisions. It's also got a fast-paced plot with good action. Hodson knows how to write about the complexities and challenges of mental illness, including the anger issues that all too frequently emerge from struggles with mental illness, and the toll that all of those issues take on interpersonal relationships. There were times that these struggles felt uncomfortably familiar, and I suspect that I won't be alone in that among Hodson's readers. This is a novel that makes you think.
I've never been to Rome, though after reading Life on the 64 Bus, I very much want to visit. I'll keep a close eye on my wallet though, and I don't think I'll plan to take the 64 Bus. Life on the 64 Bus was a fun ride, and I highly recommend it.