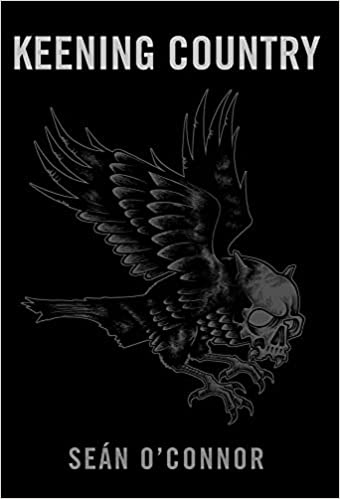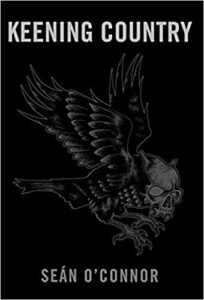 KEENING COUNTRY
Seán O'Connor
Idolum Publishing (August 13, 2021)
Reviewed by Ray Palen
I was privileged to have received an advanced copy of Seán O'Connor's first official collection of short stories entitled KEENING COUNTRY. What he can accomplish in the short form is nothing sort of amazing and each of these novelettes will resonate with readers long after the tale is complete on the page.
AERIALS – a young couple has moved out of the city proper and into the quiet countryside. That is, until a company begins erecting a huge aerial antenna on the front of their property, both ruining their view and reminding them that their tranquil home is still not far enough away from the intrusion of big corporate. It turns out that the sister of one of the couple, Abigail, works for the company that is erecting the aerial. She reaches out to her but is unable to get through, and she begins to fear that something is going on at her company that is not good.
Abigail decides to go to her sister's company in person and, with the help of another seemingly paranoid outsider, uncovers a conspiracy in which those human beings in the vicinity of these aerials that are going up seemingly everywhere are trapped in its control and lose all their free will. O'Connor has captured the perfect fears of 'too much technology' being a bad thing and exacerbates it beyond the point of no return. Just brilliant horror/sci-fi!
DOWN BELOW – young Daniel is banished to his bedroom, but that does not prevent him from looking out his window at the backyard shed, which he and his sister always imagined housed some sort of monster that would capture them. Imagine how frightening it would be to see your childhood fears come true?!
I don't want to give too much away here, but Daniel ends up being drawn to what his father has going on beneath the hidden floor in that shed, and what he discovers is way beyond his wildest nightmares. What O'Connor does to ramp up this horrific premise is to make Daniel wonder if whatever horror has been conjured there was meant to replace him or not.
SEVEN YEARS GONE – train conductor Adrian Ryan has been missing his wife, Molly, now missing for seven years. The problem is that Adrian still refuses to believe that his wife took her own life by stepping in front of a speeding train. What if she was still alive? This puts him on a mission to find the body. The problem is that Adrian is now at risk of finding out so much more, and some of the answers he turns up may not be what he is prepared to deal with.
THE OBSESSED – this short story was perhaps the most disturbing for me. Young school-aged girl, Garima Kapoor, does not fit in. She does not feel at home with her very traditional Indian family, and she does not fit in at school. She notices the male neighbor who lives across from her and fantasizes about what he is up to. There are rumors about what happened to his wife — but she does not believe any of that talk and needs to find out for herself. It appears that he is hurting himself in ways that go far beyond the simple cutting and minor self-mutilation she herself has partaken in. What she will discover once she finally meets him in person is truly how far this brand of horror can go — and it is well beyond anything Garima could have imagined.
KEENING COUNTRY is a collection of novelettes that dually produce horrific chills and admiration for the style that pervades all four tales. There is a running theme throughout each story involving characters seeking some form of escape — from their homes, lives, current circumstances, even from this world. The collection rings with personal and visceral chills and imagery that call to mind classic short-story collections like Stephen King's NIGHT SHIFT and Clive Barker's THE BOOKS OF BLOOD. Seán O'Connor has proven his ability to master horror in the short form, not an easy thing to do, and the result is a must-read collection for the true horror connoisseur.