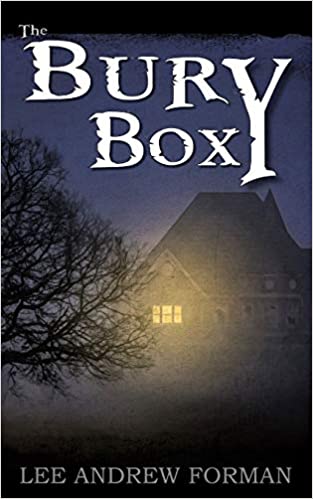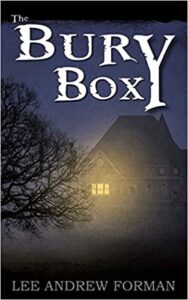 The Bury Box
Lee Andrew Forman
Tattered Edge Press (May 23, 2020)
Reviewed by Elaine Pascale
After Reggie and his family move into a new home, God appears and gives Reggie an order: "dig a hole in the ground. Then put yourself in a box, put the box in the hole, and bury it." The logistics of this task would be impossible if it weren't for the help of the ghost children who had occupied the home at an earlier time.
Reggie is a bit of a feral child, as both Mom (Lorie) and Dad (Tom) are nostrils deep in cocaine. Lorie does possess some sort of motherly instincts and becomes concerned about her son's preoccupation with digging a large hole in the yard. She also sees a stunningly red flag when Tom begins acting like a caring husband.  Is he possessed? Is the entire house possessed? Or are these simply bad reactions to drugs?
Forman has a strength with dealing with the anxiety faced by isolated characters. His Zero Perspective expertly handled the isolation of space, and The Bury Box deftly describes self-isolation. The family cannot turn to the police for help as they won't be believed when they say they see ghosts, are attacked by their own home, and are told to perform preposterous acts for God. The police would also open a criminal investigation regarding their rampant drug use. They seem to have no other family or support system and the house (and a demonic tree) are closing in on them quickly.
While the story delves into the fantastic, much focus is on the emotional haunting the family experiences over their lack of cohesiveness. Lorie and Tom have a marriage on paper only; they barely communicate, nor do they seem to care about each other. Reggie, now twelve, is treated like a small child (and acts like one), perhaps compensating for his shadow of a childhood due to addiction that haunts them all.
The story is atmospheric and full of gripping action. This is a white knuckle read for the claustrophobic, yet it is creepy enough to provide chills for all readers. I highly recommend The Bury Box.