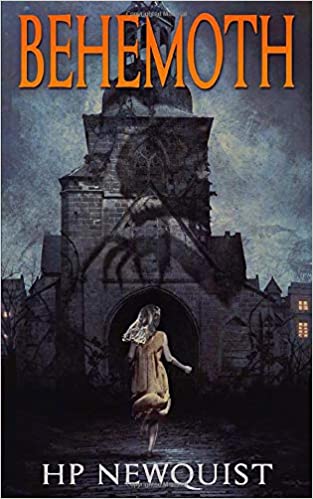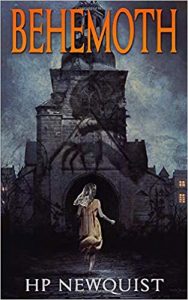 BEHEMOTH
HP Newquist
Bloodshot Books (October 24, 2019)
Reviewed by Ray Palen
'Behemoth is God's greatest creature. One of his most terrifying. According to Job, Chapter 40, Verses 15 to 18, Behemoth was made as the same time as man. It was monstrously large and extremely powerful…and God put that beast here specifically to remind us there are creatures more powerful than man.'
This Biblical reference about a creature that may, purportedly, still be walking the earth is just chilling. Quite frankly, it speaks to all the supposed sightings of creatures such as Bigfoot, Yeti, Abominable Snowman, Skinwalker, etc… that represents mythical beings which may still be amongst us all. Author HP Newquist knows monsters well, and he uses said Behemoth as a central point in his latest novel of the same name.
The action begins on a spring night when three teenaged boys are driving around the upstate New York village of Morris. Of course, they find the blockades that are up nightly, which keep anyone from driving in or out of Morris. The boys drive where they shouldn't, get the car stuck on what appears to be a burial site in the middle of a field, and are each disposed of in horrific fashion by a wild creature they cannot fully see in the darkness of the night.
A news reporter from New York City has a small place upstate outside of Morris where he goes on weekends to work on his novel. He stops at the small gas station in Morris each time he is heading back downstate for a fill up. Robert Garrahan is his name, and he gets to know on a very surface level the father and daughter that run the small gas station. You can imagine Garrahan's surprise when the father from the gas station, Bruce Donohue, shows up at his NYC office just days after his last visit. Bruce spews forth with much detail that initially sounds like the ranting of an insane person. He and his daughter, Abby, had snuck away from Morris against the orders of those who oversee the village. He goes on to talk about people disappearing from Morris and neighboring towns, without a trace. Homes in Morris are all locked up with iron gates for protection against something. Then there is the ritual, which involves one of the youngsters of Morris being selected annually as a sacrifice to the brutal being they know as Behemoth.
It all sounds more than a little far-fetched to Garrahan—that is, until his partner is murdered in their apartment and he is confronted by an extremely frightening man named Malden who seems to be the leader in Morris. He asks Garrahan to come up to Morris and do research that they have been unable to do— about the town's history, and the mysterious deaths of a group of priests, which seemed to have started everything—and report back with his findings. Only then will he agree to release Garrahan and the Donohues, without any need for sacrifice. However, what Garrahan finds in Morris is indeed the stuff of biblical, almost Lovecraftian horror, and it is very much for real.
BEHEMOTH is old-school gothic horror, historical horror mixed with modern-world superstitions and prejudices, and that makes things that much more chilling. Newquist has created a fine horror novel that dares to be called literary/historical fiction and entertains the reader from start to finish.